These High-End James Bond Men's Swim Trunks Have Us Shaken and Stirred
Orlebar Brown has created "The 007 Heritage Collection" and we want it all.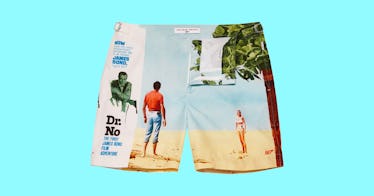 Other than Sean Connery's dad bod in Diamonds Are Forever, most men don't actually look like James Bond. Most of us, on our best days, are closer to James Bond's cool friends, like Jeffrey Wright in Casino Royale. Heck, if you're anything like me, you're rocking those Ben Whishaw cardigans during the colder months. But what if, during the warmer months, we could all dress a little bit like Bond? What if we could channel the kitschy coolness of Bond clothes into the ultimate dad summer outfit?
Enter high-end men's clothing brand Orlebar Brown, which has created an amazing line of James Bond casual wear. The clothes range from rad swimming trunks and beach shirts with cool James Bond art to clothes designed to evoke the feeling of Bond and other pieces that are outright replicas of things Bond actually wore.
Here's the stuff that caught our eye the most, and made us say, in our best (read: worst) Sean Connery voice: "Shocking, positively shocking."
This article was originally published on