This 7-Foot Tall Pink Elephant Sprinkler is Here to Save Your Summer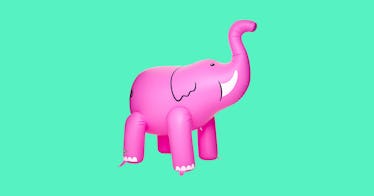 Tomorrow is the last official day of winter in the northern hemisphere, which means the season of cheap delicious beers, meat cooked outside, and yard games is almost upon us. And it also means the return of something else equally great: ridiculous backyard sprinklers. If you're in the market for one, BigMouth, maker of comically large inflatable toys, just released the seven-foot-tall Ginormous Inflatable Pink Elephant.
As you can tell by the word "Ginormous" in its official name, this sprinkler is both silly and huge. When fully inflated, the PVC pachyderm actually stands taller than seven feet, from the bottom of its feet to the top of its curved trunk. Once it's blown up (you'll need an electric air pump if you don't want the process to take hours — or all the air in your lungs) use the included stakes to secure it to the ground so a stiff wind doesn't lead to an impromptu game of "chase the huge pink elephant down the street." Once it's secure, connect a standard garden hose and turn it on. The elephant starts to spray a cone of water down from its trunk.
Not bad right? And the kids will certainly enjoy it. If you're into this, perhaps consider adding more massive water-spewing animals to your backyard water menagerie. BigMouth also makes ape, dinosaur, blue elephant, monster, and unicorn inflatables. They're a great way to celebrate the fact that winter is finally ending, and that warmer weather is on its way.