The Best Indoor Trampolines for Stir-Crazy Kids
They're a great workout, as long as they're used wisely.
by Donna Freydkin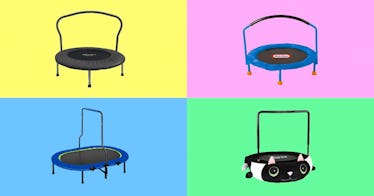 Back in the 1940s and 1950s, astronauts, tumblers, and gymnasts used trampolines as training tools to fine-tune their acrobatic skills. But you don't have to be Simone Biles or a Cirque du Soleil performer, to appreciate the profoundly simple yet exhilarating joy of flying through the air. This is particularly true for children, and even more so for kids who are trapped inside during a pandemic and need a way to burn off some energy but don't have easy access to a yard or a park. Enter kids's indoor trampoline to save everyone's sanity.
To be clear, the American Academy of Pediatrics isn't a fan of trampolines, due to the risk of injury. But the experts there say that parents who do opt to use one should follow these common-sense guidelines:
Always supervise children when they're using trampolines.
Don't allow kids to perform any acrobatics, including somersaults or flips.
Only one kid should use the trampoline at a time.
When choosing an indoor trampoline for kids, pay attention to its weight limit, first and foremost. The higher the limit, the longer you can use it. Some trampolines fold up, which is convenient if space is an issue. Others have netting, which can give jumpers a sense of security, although netting on its own has not been proven to reduce the risk of injury. Most of the kids indoor trampolines need two adults to put them together, so keep that in mind. The rest, be it aesthetics or price, is up to you.
The Best Indoor Trampolines for Kids
Every product on Fatherly is independently selected by our editors, writers, and experts. If you click a link on our site and buy something, we may earn an affiliate commission.
This article was originally published on