The Ninja Foodi Indoor Grill Extends Summer to All Year Long
Steaks and chops, every damn day.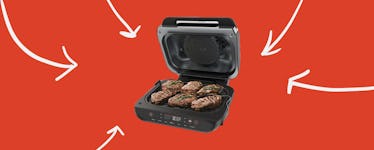 The Ninja Foodi smokeless indoor grill was already the greatest thing I'd bought in 2020. And when lockdown hit? It was nothing short of a godsend. That's not hyperbole. The Foodi Grill is the best smokeless grill out there and good enough to rival some of the best regular grills, making it the equivalent of the 1962 Green Bay Packers: It can seemingly do it all.
I live in an inclement area of Northeast Ohio so I often avoid schlepping outside to the grill in the cooler months. I like grilling, I just don't love freezing my ass off — even when pressured to do so by my two meat-loving boys, who will tuck into pretty much anything with grill marks. I'm such cheesehead-level fan of the Ninja Foodi because it makes it possible to grill all the time, no matter what — yard or no yard, blizzard or heat wave, coronavirus or not. It ensures that my kids can get their grilled goods even if there's a hail storm and a pandemic outside.
The Ninja Foodi indoor grill works by heating up the grill insert to a blistering 500 degrees. That hot grill plate, combined with a convection system that circulates the air, means that food cooks quickly and comes off the grill nicely browned and crisp — complete with those classic grill marks to show off your work. Because the Foodi grill's cooking temperatures are also adjustable, this convection system also allows you to grill frozen food without thawing it first, an amazing time-saver.
At about 18-by-14 inches, the Foodi indoor grill is pretty compact for cramped kitchen spaces. When I first set it on my counter, I was a bit dubious that the 10-by-10-inch, high-density grill grate would be big enough to accommodate the chops, brats, thighs, and dogs my family so voraciously consumes. But I found that it could cook four pork chops at a time without crowding — perfect for our family of four.
Even better, since my initial experience, the company has released a bigger, better version of the original called the XL. With enough room for six steaks or up to 24 hot dogs, you could literally feed your son or daughter's flag football team as well as the opposing side. This new version also includes a dual smart thermometer, which monitors two different places for precise control. Translation: Overcooked, rubbery meats are a thing of the past.
Despite the Ninja Foodi clearly being a thoughtfully engineered product, I worried it would smoke my family out of the house. Didn't happen. There was smoke, sure, but the grill circulates air and has a grease guard, so there was no problem even as I heaped meat on the thing. I should add that I did get smoked out at one point because I neglected to clean the 6-quart inset. That's on me, but it is worth noting that attentiveness is a prerequisite for indoor grilling. Smokeless grills are only smokeless if you use them right.
As a grill, the Foodi's a great kitchen accessory for families, but it does a lot more than grill, taking it beyond an occasional-use gadget. What thrills me is how friendly it is to kiddie foods. The grill setting lets you crank out perfect grilled hot dogs, while the griddle accessory can knock out some pancakes. Pop in the dehydration rack for dried fruit snacks, and you've got an indoor grill that's pretty damn perfect for parents.
Still, there are a couple of drawbacks. Though it's small, the Ninja Foodi does need to be stored somewhere. Also, like the Instant Pot, the Ninja Foodi Grill does require some time to preheat before you can start cooking. I've learned to prep the ingredients during preheat time.
In all likelihood, the Ninja Foodi Grill will be a welcome addition to your family kitchen. It lets you cook up plenty of your kids' favorites without stepping outside, and may even let you go weeks without turning on your stovetop or oven. It makes me feel like Vince Lombardi in the kitchen.
Every product on Fatherly is independently selected by our editors, writers, and experts. If you click a link on our site and buy something, we may earn an affiliate commission.
This article was originally published on