How to Make WowWee Fingerlings & Fingerlings Hugs Burp and Fart
The beloved toys have some unflattering habits. Here's how to activate them.
by Ben Marx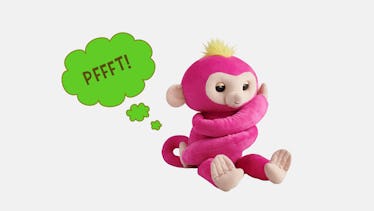 Love them or hate them, WowWee Fingerlings are diabolically created for maximum kid enjoyment. The charming toys debuted in 2017 as monkeys but have since been expanded to include raptors, unicorns, and bigger, cuddlier plush versions called Fingerlings Hugs. The monkeys, raptors, and unicorn Fingerlings are charming, fist-sized critters that latch on to kids' fingers; the Hugs are soft and have velcro hands that allow them to latch on and engage in their titular gesture. All of them are designed to react to sound, motion, and touch. Pet their hair, and they'll coo and blink. You can blow them kisses, rock them to sleep, hang 'em upside down. Clap twice and the little ones will even sing you a song.
Sounds are, of course, a big part of what make Fingerlings so lovable. All versions make 40 different ones, from cooing to snoring to gleeful screams when they're thrown up in the air. And, if you were one of the lucky ones to snag one of the Fingerlings, eventually your child will discover that their new buddy can burp and fart. If you show your child this feature before they do, you will be the coolest parent for the foreseeable future.
RELATED: 11 Best Toy Subscription Services for Kids
So, how do you make Fingerlings burp and fart? Chances are your kid will release one of the bodily sounds by accident anyway, and it's arguably easier for them to make it produce rude noises than not. But it's good to know how to engage the mouth and butt burps on command for the enjoyment of your kids. Here's how to do it:
How Do You Make Fingerlings Burp and Fart?
Cup the top of the toy's head with your hand. The Fingerling will immediately cut the cheese.
After that first blast, expect this performance to be repeated at the dinner table for the next several month.
Making a Fingerling burp is similarly easy, but one requires one extra step. To get it to let out a belch, simply hold it upside down, and cradle its head the same way you would to get it to fart.
ALSO: The 11 Best Robotics Toys to Teach Kids Coding and STEM Skills
How Do You Make Fingerlings Hugs Burp and Fart?
Hold the cuddly plush and give it a good shake. This will cause it to fart.
To make it burp, pat it gently on the back.
See? Pretty simple. But it's good dad knowledge to how to cause the creatures to pass gas from both directions on cue. If you're still having trouble, check out the handy video guide below.
This article was originally published on