How to Buy the Perfect Baby Carrier, According to the Experts
Five tips to finding, fitting, and wearing (comfortably) your perfect carrier — plus six great ones to try.
by Lexi Dwyer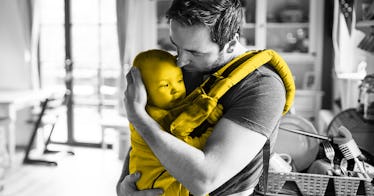 When it works, wearing your baby in a carrier or wrap can be a magical solution. You can feed your little one and soothe them to sleep. You can get yourself from point A to B without the bulk of a stroller. And if you're logging endless hours at home due to stay-at-home requirements, you'll have your hands free to do yet another round of dishes or answer a work email.
But these pandemic times present a challenge to parents who want to get started with babywearing: How can you get a perfect fit without an expert helping you physically adjust it to your body and baby? Turns out that pre-recorded classes, webinars, and live video consultations — some of which start as low as $10 a session — can help, and be a worthwhile investment as you start to learn more about babywearing."We expect baby carriers and wraps to be like strollers where it's about the features, but the truth is it's more like buying a pair of jeans or shoes, which you have to try on and make sure it's right for the season, and doesn't rub the wrong way," says Adriane Stare, postpartum doula, breastfeeding educator, and babywearing expert. We asked both Stare and Joanna McNeilly, president and founder of the Center for Babywearing Studies, for their top tips on choosing a carrier. Identify your priorities. Since one carrier can't do everything, start by identifying your non-negotiables. "Some people might say, I can't be hot, so they need a lightweight material, others have bad backs and will require more support, some people just want a ring sling at first because they're home feeding all the time," says Stare. Maybe you're now realizing you need something with lots of pockets to stash your face mask and hand sanitizer, or that you love taking long walks, and a stretchy wrap won't cut it after a few blocks. A babywearing expert can listen to your priorities and give you options to tryGet a newborn-friendly carrier. The littlest babies have specific requirements (read: tons of support), but once you reach four months and definitely six months, the world becomes your oyster as you'll have so many more carrier and wrap options. "For a baby that is between 0 and 3 months, we don't need a carrier that does all the things, you want something that's going to support their natural positioning and let you monitor how they are doing, so ideally they are close enough that you can kiss the top of their head," says McNeilly. She also says it's normal for newborns to cry when they first get put into a carrier, and doesn't necessarily mean it's not the one for them, or that babywearing isn't for them. "They don't know what's going on, they might think they're going to get fed as they get close to you, so you might need to walk around your space quickly and with purpose until they settle down," says McNeilly. Of course, definitely keep an ear out for cries that sound truly distressed. "Listen for a sharp cry or change in tone, that might mean the carrier has been overtightened. They should be able to put their hands near their mouth, and as you bend down to tie a shoe, they shouldn't separate from your body," says McNeilly. Although it's normal to notice fabric marks on the baby's skin after you take her out, any mottling or blotchiness means you have it too fastened too tightly. You'll know it's not too loose if, after 10 minutes of walking around, "your baby hasn't slid down or changed position," McNeilly says.Accept the learning curve. Just like you need to learn about breastfeeding and sleep solutions, babywearing requires a little education. "Unfortunately the marketing behind each of these carriers makes it sound like it's going to jump out of the box, grab the baby, and magically make it happen, but that's not reality — you do have to be committed to learning," says McNeilly. Stare also adds, "We don't come from a culture that has a history of wearing cloth wraps, and this was something we'd have learned from our grandmas or aunts. Babywearing gets lumped into the gear market but it's really more like breastfeeding — learning the patterns and how to approach it." Both McNeilly and Stare recommend talking to an expert who, as Stare says, "isn't biased and isn't going to try and sell you a carrier they're repping." Once you have the carrier, check the company's website and YouTube for instructions and videos, as well; most also offer customer support by phone.Get some props. If you're doing a video consultation, McNeilly suggests having someone else entertain the baby while you talk to the pro. "Have a ten-pound bag of rice on hand and practice with this as you're learning, and when the session is coming to an end, that's when you can bring the baby in," she says. The reason is that babies, as tiny as they are, can sense stress on their parents and caregivers. "Babies pick up on unsureness and hesitancy, so it's better to first process what you are learning before you try to get them comfortable," says McNeilly. Note that if you're taking a class while still pregnant, which McNeilly says is also a great idea, you might want to go with a five-pound bag of rice.Have a few carriers around If you can't try on carriers at a store or in a class, you can get prepared for your video session by ordering several carriers online and returning the ones that don't work (if your budget allows it) or borrowing carriers from friends. When shopping online, McNeilly recommends checking a site like Fakespot to be sure you aren't either getting a counterfeit product or reading fake reviews. As you look at reviews, "look for people whose goals and body type sound similar to yours," says McNeilly.Depending on your needs, here are several carriers that might work for you. As you research, watch videos and experiment, keep in mind McNeilly's final words of wisdom: "No baby carrier should need two people to put it on correctly, so if that's the case, it's not the right one for you."
The Best Baby Carrier for Staying Cool
The Best Ring Sling
The Best No-Brainer Newborn Baby Carrier
The Best Baby Carrier for Multiple Users
The Best Baby-to-Toddler Carrier
The Best Baby Carrier for Hiking
Every product on Fatherly is independently selected by our editors, writers, and experts. If you click a link on our site and buy something, we may earn an affiliate commission.
This article was originally published on