Never Lose Your Car in a Huge Parking Lot Again With This GPS Tracker
It's like a find my phone, but for your car.
by Jon Gugala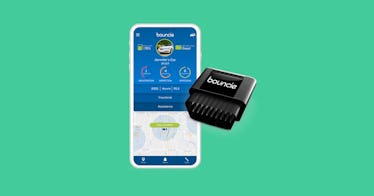 Here's a true story neatly summing up why you need a GPS tracker for your car. One day not so long ago, we foolishly and optimistically hit a water park on a sweltering August day. In our heady excitement, we forgot where we left the car, figuring we'd simply stumble on it at the end of the day. Six hours later: Starving kids, overheated parents, no family wheels in sight. Ah, we thought, if only we'd had a way to locate our car.
Enter the Bouncie, which acts as a liaison between you and your ever-more-complicated car, truck, or SUV, providing you with real information about your driving habits, location, and system so that you can depend on your vehicle the way that others depend on you. Bouncie is a one-two tech punch that includes both a hardware piece and a connected app. Quickly plug in the device to the OBD port (all modern vehicles will have them) and then sync with the app. Voila, a world of data is now at your fingertips.
Lost your car at Disneyworld? The app shows you exactly where you left it. Have a teen spreading his or her wings behind the wheel? Monitor their speed. A feature called "Geo-Circles" shows that if he or she has driven beyond your agreed-upon boundaries, you'll know it.
Regarding your own driving, Bouncie records your speed, acceleration, and hard braking, offering real-world feedback on how to make your own journeys safer and easier on your vehicle.
To ensure that recent problems don't become expensive fixes, the device also monitors areas of your car like its battery level, fuel, and other details that can get overlooked as you make another mad dash across town. That stubborn warning light on your dash is easily decoded so that you can arrive at your mechanic's with some idea of the issue.
One of our favorite features is a special area for all of your important papers, including emissions testing, inspections, insurance, and registration. Not only will you have paperless versions with the tap of a button, but you'll also be alerted regarding their expiration so nothing gets lost in the shuffle.
While its features require an $8 a month fee beyond the onetime hardware cost to connect to 3G, it's a small price to pay for a peace of mind for when you should have been pulling out of the driveway five minutes ago.
Bouncie is the first tech solution for the myriad problems a parent can experience while driving. While it won't alleviate traffic en route your destination, it can at least ease the gnawing fear of the unknown along the way.
Every product on Fatherly is independently selected by our editors, writers, and experts. If you click a link on our site and buy something, we may earn an affiliate commission.