Listen Up, Gamers: Save $100 On the Sony PS4 Pro Console, Xbox One X
And it's not even Black Friday yet.
by Donna Freydkin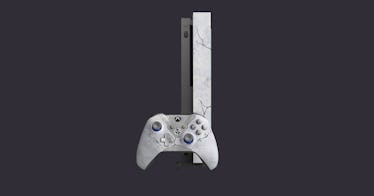 If you love gaming, we have a few magic words for you: PS4 console deals. And Xbox One X deals. The Sony PlayStation 4 Pro is already on sale. And so is the Xbox One S. You can tell yourself it's a gift for the kids. But let's be honest: The PS4 Pro or the Xbox One is most likely a gift for yourself. A gift you need (and don't need to justify). Because these Black Friday prices are truly bananas.
Wondering about the difference between the PS4 and the PS4 Pro? Simple. The PS4 Pro is a far more powerful unit that delivers better performance when it comes to 4K gaming and HDR.
PlayStation PS4 Pro 1TB Console Black Friday
Billed as the most advanced PlayStation system you can buy, the PS4 Pro outputs gameplay to your 4K TV. That means games look insanely sharp and detailed. You get better clarity, faster frame rates, and colors that pretty much blow your mind. Whether you're into Spider-Man or Red Dead Redemption 2, this system takes whatever game you or your kid play to a whole other level.
It also has something called Boost Mode, which is available for select PS4 games, giving you shorter load times, and quicker and smoother frame rates while gaming.
PlayStation PS4 Slim 1TB Console Black Friday
Not ready for the PS4 Pro yet? Check this out instead. You get a black 1TB PS4, matching Dualshock4 wireless controller, the God of War game, the Last of Us game, and and Horizon Zero Dawn.
Xbox One X Black Friday
The newest Xbox console is the most powerful Microsoft has ever released. It lets you experience really and truly immersive 4K gaming. You get more memory, smoother gameplay, and stunningly lifelike details.
Microsoft Xbox One S Black Friday
This awesome bundle comes with Fortnite Battle Royale, Sea of Thieves, and Minecraft. And if those aren't to your liking, you can build a library of digital games in the cloud that follows you everywhere.
Every product on Fatherly is independently selected by our editors, writers, and experts. If you click a link on our site and buy something, we may earn an affiliate commission.
This article was originally published on