The Best Action Figures and Dolls For Kids This Holiday
Kylo Ren, the kids from 'Stranger Things', and Harry Potter are having a party.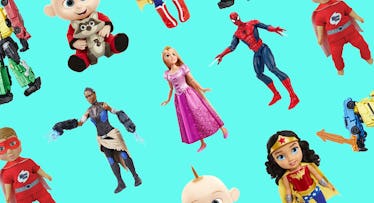 The action figure will never die. Year after year, as kids put more tech gadgets on their holiday lists, it seems more and more likely that these awesome kids toys are going to disappear. Then they don't. Action figures and dolls have, however, evolved. Many are now infused with innovative technologies that help create a user experience beyond the old-school bash and smash. Whether it's a modernized Teddy Ruxpin, a life-like Barbie horse that can nay and walk, or just awesome Teenage Mutant Ninja Turtles mashed up with the characters from Ghostbusters, there are a ton of awesome toys to choose from.
Here are the best action figures and dolls for kids — the ones that parents will want to play with even when there aren't any kids around.
Disney Spider-Man Talking Action Figure
This 13-inch-tall Spidey is an old-school action figure that does the basics right. Its joints are fully poseable and plastic "webs" can be stuck into his hands and then fired up to two feet with the press of a button. The most high-tech thing about him is the talking function; there are over 15 phrases that play when the logo on his chest is pressed and buttons on his arms make web-slinging sounds. If your kid loves Spider-Man, you can't go wrong with this one.
Disney Princess Playdate Rapunzel 32″ Doll
"The bigger the toy, the bigger the fun" is not a maxim we'd endorse all the time, but it's certainly true for this 32-inch Rapunzel doll. Inspired by Disney's Tangled, it comes with movie-inspired dress, shoes, and tiara. Kids can pose her and style her long, long, long hair however they want. If you want to really go for it, you can buy an accompanying horse toy for her to ride, but there's plenty of fun to be had without it as well.
Mecard Deluxe Mecardimals
Mecardimals are cool because they're two toys in one. They start out as cars that, when you roll them over a special playing card, pop into the air and land as robot warrior. Kids can fold them back into a car and re-transform them to their heart's content. Even if they never play the card game associated with the toys, the spring-loaded action never seems to get old.
The Incredibles 2 Jack-Jack Toy
This plush version of the youngest superhero around is cute and cuddly, but the real fun comes from his electronic features. He will giggle and laugh when you tickle his stomach, but if you hold it down his face will turn red, his eyes will glow and he'll "explode" in a cacophony of colors, lights, and sounds. Plus, he comes with a raccoon toy in case your kids want to recreate a memorable scene from the film.
Ready2Robot Mechbots
Kids won't know exactly which of these 19 robots they have until they crack open the pods they come in for the first time. They do know they'll be getting seven different parts that assemble into a robot and some slime, just because. If they get a few of these, kids can even make their own Frankenrobots using parts from multiple sets.
Wonder Crew
The inventors of these dolls wanted to combine traditional markers of superhero action figures with the form factor of dolls. The goal? Create a toy for young boys in a soft, cuddly package that would help make them more comfortable expressing their emotions. They 15-inch dolls come in a variety of different skin tones, all of which are dressed in the same cape and eye mask. They even come with a kid-sized version of the cape and mask so kids can join their doll on its adventures.
Marvel 6-Inch Shuri Figure
Black Panther's younger, tech-savvy sister arguably stole the show in the blockbuster film. She is seemingly the smartest person in Wakanda and, as her actions in the film show, also one of the bravest and most loyal. She's the kind of character you want your kids (particularly your daughters) to spend time with, and this action figure means they'll have ample opportunities to go on adventures together.
Team Combiner Ultra Bee
There are plenty of awesome new Transformers toys to choose from, but this might be our favorite. Bumblee's body becomes the base onto which four different Autobots attach to form a bigger, badder robot. Each Autobot is a fun toy in its own right, and kids will love playing with them separately and assembling and reassembling the. If they aren't already excited for the new Bumblebee movie, they will be after spending some time with this toy.
DC Toddler Doll Wonder Woman
Let your little superhero's imagination soar with this 15-inch toddler Wonder Woman doll by Tolly Tots. She's equipped with all of the hero's signature gear: Star crown, silver bracelets of submission, and of course the golden lasso. If your toddler is more of a Kryptonian or super genius than an Amazonian, Supergirl and Batgirl are also available.
Big Figs 20-Inch Star Wars Figures
Let your young Jedi practice using the force on this 20-inch tall Kylo Ren action figure. Based on characters from The Last Jedi and the animated series, Star Wars Rebels, these super-detailed articulated action figures from Jakks allow kids to relive their favorite moments from the big screen. In addition to Ren, you get get Poe, Chewy, and Han, among others, and each figure comes with their weapon from the series.
This year's hottest toy is also one of the creepiest. Luvabella, like most baby dolls, will laugh, drink from a bottle, and speaks baby babble. But the creep factor is in Spin Master's A.I. chip which can learn up to 100 new words by interacting with your kid. Luvabella also comes with accessories like a bottle, pacifier, spoon, and a blanket. It definitely doesn't watch you while you sleep. We checked.
The women of the WWE are so tough, Barbie wouldn't dare to step in the ring, but could the Bella Twins match Barbie in a runway walk off? These 12-inch figures combine action with fashion coming with two outfits: one based off every grappler's in-ring gear, and the other matching every woman's unique personal style. Since the figures are articulated, kids can recreate in-ring action like Sasha Banks' finishing move, the "Bank Statement" on Charlotte Flair. Let's hope they settle the score before they change to their post-match outfits.
Ninja Turtles, like pizza, can come in a variety of combinations. And somehow bringing the green team together with Ghostbusters works in a bizarre mash-up that just works. Egon Spengler is Donatello, Peter Venkman is Michelangelo, Winston Zeddemore is Raphael, and Ray Stantz is Leonardo. Ok, so every combination doesn't work, but the figures serve as an easy way to introduce your kids to the ghost catching foursome without sitting through a horrible reboot or a too-racy '80s comedy. It's a win-win!
Immortalize your pet by creating an accurate plushie, figurine or a granite memorial at Cuddle Clones. Of course, some legwork is necessary to create your actual pet into a plushie. You have to enter your animal's breed, eye color, weight, and multiple pictures from various angles. And the custom jobs are not cheap either, but you get to choose the pose of your pet (sitting, lying, or standing) and its facial expression, so it's a one of kind gift for a one of a kind pet.
Star Wars Build-A-Bears
A stormtrooper can be a little too much for a child, but in bear form, there's nothing cuter. Star Wars has teamed with Build-A-Bear to create characters from a far, far, away place: Rey, Boba Fett, Yoda, and Chewbacca are available in bear-form. And like every Build-A-Bear item, you can customize every Star Wars bear by adding clothes, sounds, and scents from the workshop to create something that George Lucas would have considered at one point.
I Am Elemental Series 2 / Wisdom Warriors
These Wisdom Warriors action figures are made by women with the intention to be a positive re-interpretation of tradition female toys. Designed specifically for girls, the toys are meant for all children to reinvent the superhero myth by giving the character a specific trait, unique look, ability, backstory, name (some names include Creativity, Ingenuity, Logic, and Mastery). So instead of punching a bad guy in the face, these figures are focused on using their wisdom.
Teddy Ruxpin
The revolutionary animatronic bear from the '80s is back! The all-new Teddy Ruxpin bear tells stories, sings, and, thanks to his 2017 technology, has all new LCD eyes that express his emotional state. The bear is paired with a free iOs and Android app, where you can download new songs and stories for Teddy to share with your kids.
The first boy to be made by American Girl Doll has been requested by fans for years. Logan may be different in gender to every American Girl Doll before him, but he's no different in quality or treatment. He comes complete with a backstory (he's in a country music band with another character, Tenney) and comes in a rockin' outfit of rolled up sleeves and a faux pair of Converse.
Funko's SuperCute Harry Potter Plushies
Funko is living up to their SuperCute Harry plushies series with their Harry Potter line. Your little muggle can choose from Harry, Hermonie, Ron, or from a cute looking, but still completely evil Voldemort. If your kid is less of a wizard and more of a princess, Funko also delivers the SuperCute series for Disney princesses all the way from Ariel to Elsa.
Stranger Things Action Figures 3-Pack
The world's favorite Netflix series, Stranger Things, is getting the action figure treatment thanks to Funko's 3-pack sets. Choose from Eleven, Lucas, and Mike or Will, Dustin, and the Demogorgon or get both and recreate your own little Upside Down with these 3-inch figures.
Barbie Dreamhorse
Barbie's new Dreamhorse features one of the most interactive playsets by Mattel. Barbie's horse can walk, turn 360 degrees, neigh, and make more than 30 interactive sounds. Best yet, the horse will nay yes or no when kids ask it a question. Think of it like Google Home, but from a 12-inch tall horse.