Mattel's New WWE Superstar Dolls Are Here to Kick Ass And Wear Gowns. And You'll Probably Lose The Gowns.
Welcome to the squared circle.
by Dave Baldwin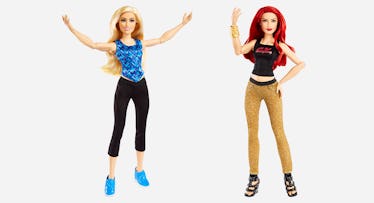 Barbie in the wrestling ring? It's probably the last place you'd expect to see her, but to the delight of wrestling fans everywhere, she's about to climb in. Ding. Ding.
Two years after the hashtag #GiveDivasAChance went viral and propelled the WWE's female wrestlers to equal time with their male counterparts, Mattel has turned the new WWE Superstars into a line of Barbie-styled fashion dolls. They'll be available for pre-order online on Monday and hit store shelves in early September.
Forty percent of professional wrestling fans are female, and almost 11 million women and girls tune in weekly. And while Mattel already makes action figures in the likeness of popular female wrestlers, there's still a decided lack of merchandise targeted to girls growing up Charlotte Flair fans. Mattel hopes these articulated 12-inch dolls (for kids 6+) based on Superstars like Sasha Banks, Natalya, Alicia Fox, and the Bellas, among others, will help fill that void.
Combining "action with fashion," each Superstar doll comes outfitted in that wrestler's signature style ⏤ so Nikki Bella wears a baseball hat, Flair's rocking black leggings and teal sneakers (although weirdly missing her eye flair), you know the rest. A handful of them also come with dresses and high heels for the obvious post-match cocktail soiree. They are fashion dolls after all.
For fans more interested in wrestling than dressing their dolls, the new line also includes 6-inch action figures with "deluxe articulation and bold ring looks" and a Stage Entrance and Backstage Dressing Room playset. And for those girls who could care less about the dolls, but legitimately want to wrestle one another in the living room, they'll also sell role play items like a WWE Women's Championship title belt with authentic styling and sleek metallic medallions that the winner can wear around the house.