The 16 Best Beach Gear to Help Make Your Next Beach Day Go Smoothly
Check out this list of beach gear, which includes a pop-up sun shades, blankets, a portable rinse kit, and more.
by Dave Baldwin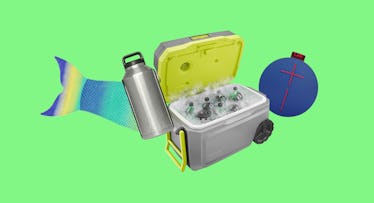 Whoever said that easy things in life are like "a day at the beach" was obviously not a parent. Bringing kids to the ocean for a little fun in the sun without inadvertently turning them into lobster-colored, sand-eating meltdowns can be a challenge. But not impossible, especially with a little planning and the right beach gear.
RELATED: Uncrowded Beaches That Are Perfect For Kids (And The Guy Who Drove Them There)
The best beach games, coolers, and buckets are a great start, but you also need kids toys and gear to stake down your section of sand, keep the kids shaded and cool, and the tunes cranking. The gear here ⏤ from portable sunshades and sand-free blankets, to heavy-duty wagons and an ice chest with its own A/C ⏤ does just that. And it helps ensure you spend less time unloading the car and slathering sunscreen and more time boogie boarding and building sandcastles.
Sunbayouth Baby Beach Tent Pool
Honestly, it doesn't get any more clever than pop-up baby beach tent with a built-in kiddie pool. Babies stay out of the sun and cool in the water. Plus, they aren't wandering away. The Sunbayouth Baby Beach Tent Pool comes with a UV 50+ detachable sun shade, 27-inch by 21-inch pool that fits into the sand, and folds up in seconds for easy transport.
Quicksand Beach Mat
There's no bigger exercise in futility than trying to keep sand off your blanket (and especially with kids continually traipsing across it. The Quicksand Beach Mat uses science ⏤ and multiple mesh weave layers ⏤ to solve the problem. Sand sifts through the mat but can't climb back up. Simple as that. The beach gear measures 6.6-feet by 6.6-feet, comes in myriad colors including lime and plaid blue, and can be washed with a garden hose.
Kyboka Wagon
It's an all-too-familiar problem: You've packed the car so full of plastic sand shovels that it's going to take 18 trips to haul all that crap to your blanket. Enter: The Kyboka, a foldable utility cart that converts from flat to full in a matter of minutes. Simply attach the off-road tires, expand the collapsible walls, and voila! – 12 return trips to the car averted. The beach gear cart holds up to 110 pounds of gear and is easy to maneuver thanks to a rotating 360-degree handle.
Under The Weather Pods
Under the Weather Pods are single-adult (or multiple-kid) transparent tents targeted to beachgoers, sports parents, and anybody who presumably prefers to see but not feel the outdoors. They pop open, stand 58-inches tall by 36-inches wide, and are covered by three-sides of water- and wind-resistant clear PVC, or mesh if you'd rather let the breeze blow through. They also provide UPF 50 sun protection, so feel free to duck inside when the sun gets too hot, and can be linked together with other pods into a giant, shaded beach HQ.
UE Roll 2 Bluetooth Speaker
Most waterproof speakers don't play well in the water. But the UE Roll 2 comes packing an inflatable life preserver that actually lets it float. Bonus: the beach gear speaker can also be pulled along by its built-in bungee cord. Cannonball-splashes and epic submersions are no match, as it can play for a solid 30 minutes in up to three feet of water. It's powerful despite the deceptive, compact size and 15-percent louder than its predecessor. Not only that, but it has a range of 100 feet and a 10-hour battery life.
Anker Portable Solar Power Charger
While you may envision your ocean adventure as an off-the-grid trip back to nature, the family probably doesn't agree. But rather than power up your phones and tablets back at the car, plug them into this compact 15W portable solar charger and let the sun get to work instead. Since science can be confusing, just know is that the beach gear uses a PowerIQ system to charge devices fast (up to 2.1 amps), features dual USB ports, and boasts elastic loops so you can attach it to an umbrella or chair.
Yeti Rambler Bottle
There's a reason you don't bring hot chocolate to the beach: You want cold drinks in the hot sun, dammit. The Yeti Rambler's double walled insulated stainless steel construction keeps drinks icy and ensures you're not chugging lukewarm Gatorade by 3 PM, while the patented "Over-the-Nose" opening means it's easy to fill, even if it is always covered in zinc oxide. It's the best kind of beach gear.
RinseKit Portable High-Pressure Shower
No matter how fun the trip, nobody wants to be finding sand in the car in October. Hose the whole crew off before you drive home with this two-gallon pressurized portable shower made popular on Shark Tank. Not only does it deliver four minutes of spray with seven different settings (from jet stream to soaking shower) but it pressurizes on its own as it's filled, rather than requiring a pump.
Super-Brella Sun And Weather Shelter
Try to cram multiple kids under a traditional beach umbrella and inevitably one (or, at least, half of one) gets burnt in the sun at the beach. With a generous eight feet of UPF 50+ coverage and full side flaps, this hybrid umbrella-tent-beach-shelter keeps everybody's limbs sunburn-free. And the zippered windows and secure ground stakes mean you can enjoy the lovely ocean breeze without getting blown away.
Renetto Beach Bum Canopy Chair
Like a sexy new stadium, the Renetto Beach Bum is a folding camp chair with a retractable roof. The adjustable canopy comes pre-attached – so no assembly is required — and easily slides between up and down positions to accommodate your sun/shade needs (the beach gear also cleverly converts into a carrying case). There's a hideaway footrest that folds underneath and a large pocket for your fantasy football draft guide, so you have no excuse for drafting Mark Sanchez in the second round.
Ryobi Cooling Cooler
Another in the recent wave of coolers that do more than chill drinks, Ryobi's aptly-named 18-volt Cooling Cooler is a battery powered ice box that pumps frigid air into your Super-Brella shelter or Under the Weather Pod. While the beach gear doesn't have a built-in A/C, it does have a ventilation system that blows cold air from inside the cooler out. And considering there's ice in the cooler, that makes perfect sense.
Mountainsmith Crosstown Cooler Tote
Because not every stretch of sand comes with a parking lot, you can sling the Crosstown ⏤ which looks and feels more like a tote bag than a bulky cooler ⏤ over your shoulder for the trek down to the beach. It can also be worn as a backpack, as wide webbing shoulder straps support all the sandwiches and drinks you can haul. A compression-molded EVA bottom gives the bag structure, which keeps the beach gear standing upright, but if something does spill inside, the waterproof, seam-sealed lining is easy to wipe clean.
Shader
At first glance, Shader looks like somebody removed the canopy of a baby stroller and used it to cover their head on a beach. In reality, it's a portable (and collapsible) sun shield designed in Australia to take the place of whatever you're currently using to block your face from the sun ⏤ be it a hat, magazine, or t-shirt. That said, the thing comes loaded with bonus features including a removable pillow with integrated chill pack, a six-cup drink holder, and a phone/iPad solar charging panel that can accommodate a USB-powered fan. It also attaches to chairs, boasts an internal pocket for your wallet, and comes with a beach bag that also has room for a towel. Now that's one hell of a stroller canopy.
Yaket Ice
It doesn't look like much, but it's beauty is in its simplicity. To keep water or baby bottles cold in the car, just wrap the band around them. There, you have a six-pack. Of course, it wouldn't hurt to use the Yaket Ice to keep adult beverages at cold, as well.
HandTrux Backhoe Toy Digger
Who doesn't love building sand castles at the beach? The only problem: plastic shovels are clunky and your hands don't scoop sand as well as a tool. Check out the HandTrux Backhoe Toy Digger. There's a grip inside digger, so it makes picking up sand as simple as using your hands – just more efficient.
TowelTails
These machine-washable towels let you unleash your inner mermaid. You can can curl up inside the roughly 56-inch long cotton towel to look as if you have a mermaid body with a tail at the end. If you'd rather be a shark or a dragon, those designs are available, too.