'Dune' Toys Are Already For Sale — But Where's My Giant F*cking Sandworm Toy?
There's already cool new Dune toys. But something is missing...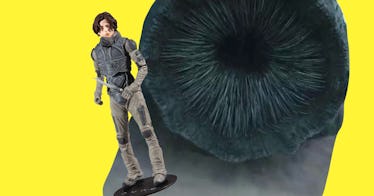 The toys must flow! If you've browsed some of the toy and game-aisles at Target or Walmart recently you might notice something strange: There are already toys out there for the new version of Dune, even though the movie itself won't come out until October 1, 2021. Whether or not it's ever been a good idea to make toys based on any version of Dune could be a debate you might have had back in 1984 when action figures were created for a trippy David Lynch movie, but this is 2021. It seems fine that there are Dune toys.
And the reason it's fine is that these toys aren't for kids. Like the scarce Dune toys of 1984, the new action figures for Dune are clearly aimed at people like me: dads (and moms!) in their 30s or 40s who just really want a sick-ass action figure of Jason Mamoa as Duncan Idaho sitting on my desk, daring me to be more of a badass on a daily basis. And, because the movie was going to come out in December 2020, it appears that McFarlane Toys decided to just go ahead and release the Dune toys like the spice junkies they clearly are.
A smattering of the main characters seem to be represented by this action figure selection: You've got Paul Atrieds, Stilgar, Duncan, Laddy Jessica, and Baron Harkonnen. These action figures have that early-aughts Lord of the Rings action-figure vibe to them, which is not a bad thing at all. Considering the movie isn't even out, these figures are pretty sweet, and if you're as pumped for Dune as we are, buying a few of these now might help tide you over.
There's really just one problem. So far, the greatest possible action figure of them all does not seem to be available. We're talking about the Shai-Hulud now, better known as the Sandworms! If we're going to get Dune action figures, then, it follows, that at some point we're going to get a giant Sandworm toy they can ride, right? I mean, you don't make Han Solo toys without the Millennium Falcon. Batman needs the Batmobile, right?
In 1984, there were some rubber Sandworm toys, and, let's face it, they're not cool. So, right now, it looks like McFarlane Toys in a spot to make some easy money by giving us a cool, over-the-top Sandworm toy. It doesn't exist yet. But, go ahead, take our money. Until the worm arrives, we'll buy the new Timothee Chalamet version of Paul as an action figure.
Every product on Fatherly is independently selected by our editors, writers, and experts. If you click a link on our site and buy something, we may earn an affiliate commission.
This article was originally published on