This Smart Nightstand Replaces Your Lamp, Clock, and Charger
This is one brainy bedside table.
by Dave Baldwin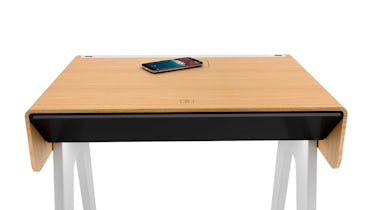 Every other week some ordinary household item seems to join the Internet of Things: a smart smoker that does the grilling, stove knobs that turn off automatically, a Bluetooth coffee table with a built-in beer fridge. When will it end? Apparently, no time soon. And that's just fine. Especially if it keeps yielding items like the Curvilux, a sleek smart nightstand that charges gear and lights up a room.
Curvilux is a single-drawer smart night stand with a minimalist aesthetic and all kinds of integrated tech that syncs with a smartphone app. First, there's a built-in wireless charging pad and two USB ports to power all the tablets, phones, and gadgets people shouldn't be bringing to bed if they want to have more sex and/or get a good night sleep. The Curvilux also has a high-powered LED strip that not only detects the best brightness setting for the room but also doubles as a sunrise alarm that syncs with your sleep-cycle and gradually wakes you up with increasing light.
More rad features abound. The Curvilux's built-in audio system streams jams from any Bluetooth device and the motion-detecting nightlight pops on the second a foot hits the floor en route to a middle-of-the-night pee. There's a digital one-tap lock on the drawer that prevents little fingers from prying open the lid and seeing your bedside stash. Basically, the only thing this table appears to be missing is an integrated coffee maker alarm clock. Curvilex is currently available online in either white or black for $299.
This article was originally published on