At-Home COVID Tests Are Here. Here's Everything You Need to Know.
And where to get the tests now.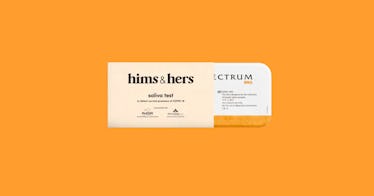 By now, most of us have waited on line at a COVID-19 testing site, and then waited again for the results. Our testing capacity and infrastructure are clearly not where they need to be to handle the COVID-19 pandemic. But at-home tests are proliferating, making it easy (in theory) to take a coronavirus test within your own four walls.
The most recent win there was the FDA authorization, on December 15, of the first over-the-counter COVID-19 test that can be completed entirely at home. That means that — unlike the existing at-home tests, and more along the lines of a home pregnancy test — you don't need to send your sample in to get results.
The Ellume COVID-19 Home Test uses a self-collected nasal swab and returns results in just 20 minutes. It's an antigen test, which is slightly less accurate than gold standard PCR tests, but it is authorized for both people with and without symptoms. The test is expected to cost $30 and should be available in the first half of 2021. Only one other rapid result, completely at-home test is available in the U.S. However, that one, the Lucira COVID-19 All-in-One Test Kit is only available at health clinics or with a prescription. The Lucira test was not examined for efficacy in asymptomatic people and some experts say it should only be used in people with COVID-19 symptoms. It costs about $50 and can be used at home by those aged 14 and up.
That leaves us, for now, with the mail-in COVID-19 tests. These coronavirus tests come in the mail, provide collection units for either a nasal swab or saliva sample, and include pre-paid return packaging for you to mail back to a lab. Results typically arrive in 72 hours, according to the companies (although one may take up to five days). So far, so good. But are these kinds of at-home COVID-19 tests legit?
You can feel pretty confident that your results from an at-home coronavirus test are as accurate as one you'd receive from a medical professional at one of the COVID-19 testing sites. In one study published in the Journal of the American Medical Association, researchers from Stanford University found that out of 30 people who were tested clinically for the novel coronavirus, only one had differing results from a self-test. That's roughly a 96.7 percent agreement rate. And in a larger-scale study by UnitedHealth Group, published in the New England Journal of Medicine, researchers found that self-administered tests (in the presence of a healthcare worker) accurately detected the virus in more than 90 percent of people who were positive with COVID-19.
"Self-administered tests performed as well as samples collected by providers," says Ethan Berke, M.D., co-author of the UnitedHealth Group study. Moreover, the study found that self-administered tests that swabbed the lower portion of the nose (as opposed to the deep swabs during provider tests) might yield more accurate results because patients were less likely to pull back in discomfort and thus compromise the quality of the test. That said, if you're not showing symptoms and want to get tested, make sure the at-home test you're looking into has been cleared for use in asymptomatic people.
Most of the at-home tests currently available have not been vetted through the Food and Drug Administration's usual stringent approval process. Rather, in a rush to get self-testing options out to the public, the FDA used its Emergency Use Authorization powers to "authorize" these tests (meaning they are deemed safe to use), but have not "approved" them, so they have not been subjected to the intensive process that requires extensive, independent testing.
The expediency of at-home tests makes them an attractive option in areas where getting results can take forever or where there are shortages of tests themselves. "The important message here is that the more choices people have for safe, effective testing, the better," says Dr. Berke. "If you are completely capable of doing it at home and there is no doctor or testing site available, then it makes sense. If you aren't comfortable doing it yourself, then see your doctor. It all comes down to your situation and capacity of the healthcare system in your area."
At-Home COVID Tests
If you do decide to go with a COVID-19 self-test, a few things to keep in mind. If you're feeling extremely ill, see your doctor or head to the ER instead. (The at-home test companies themselves will redirect you there if you have serious symptoms.) If you're using an antigen test and get a positive result, consider following up with a gold standard PCR test. Antigen tests can give false positive results, and you don't want to isolate if you aren't really sick. And you can't leave your swab baking in the back of your hot car for a day before mailing it back: "If it sits for too long or it's not at the right temperature, the RNA starts to degrade in the sample and the virus becomes undetectable or more difficult to detect," says Dr. Berke.
Plus, these tests cost money. While potentially reimbursable by insurance if you submit your paperwork to your carrier, only one of the companies submits a claim for you. But if you'd rather avoid the circus surrounding testing sites or don't feel comfortable going to a doctor's office, then these at-home tests are worth considering.
Every product on Fatherly is independently selected by our editors, writers, and experts. If you click a link on our site and buy something, we may earn an affiliate commission.
This article was originally published on