The Best Back-to-School Tech and Gadgets
Math clocks, dumb phones, and even a robot Albert Einstein that teaches science.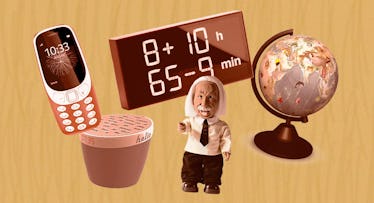 There's good and bad with everything in life. And that's never more true with technology for kids. For every time-wasting gadget designed to rot their little brains, there's one to help them learn code, build a robot, or provide assistance with advanced math calculations. Try as you might to channel your inner-Luddite, tech is an integral part of today's learning.
RELATED: The Best Backpacks for Back to School 2017
Which is why you have to be even more diligent when it comes to sifting through the gizmos that will sharpen your kid's brain and those that will dull it. To help out, we did some sifting for you. From math clocks and coding kits to augmented reality (AR) globes and projectors to practice penmanship, here are the coolest (and most helpful) back-to-school tech gadgets of 2017.
Orboot Augmented Reality Globe
Globes are nearly extinct in today's classrooms, so naturally somebody decided to disrupt the industry. That somebody is Orboot, and they've developed a futuristic version that works with AR technology to turn armchair geography into a fully interactive experience. Just point your smartphone or tablet at a place on the Orboot Augmented Reality Globe and prepare to learn all about the history, culture, flora, fauna, and more. What's old is new — and more rad than ever.
Protection from monsters under the bed comes with a price. The planter-like Helio Educational Nightlight uses soft LED glow and replaceable discs to project words, numbers, shapes, and pictures onto the bedroom ceiling. The starter pack will get you going (Tropical Night, Solar System, Sleep Times, Marine Night, and Speed Animals), but there's an online shop with additional disks (state maps, multiplication tables, presidents, etc.), and Helio developed many of them with the help of teaching professionals. For the first time ever, your kid will actually look forward to turning off the light after story time.
Step aside, because you're about to forfeit your status as the "Knower of Things" in the eyes of your child. This mildly creepy 15-inch Einstein robot uses speech and movement recognition to engage kids and shower them with facts about science, people, places, weather, and much more. Paired with the Stein-O-Matic app (not to be confused with Hipstamatic), Robot Einstein does his share of learning as well, so the content will never get stale.
Osmo Coding Jam
The Osmo Coding Jam is a nifty gaming accessory that destroys the notion of mindless screen time. Simply stick your iPad into the tilted base and clip the red reflector over the camera lens. Like magic, the technology "reads" the surface directly in front of the iPad, so it can interact with real-life coding blocks on the table, each of which plays a different musical instrument (bass, drums, melody, etc.). By connecting and adjusting the blocks, kids create longer music jams and learn to code in the process. Code Phish's entire Runaway Jim, and they're rewarded with a job at Google.
In the parlance of the Big Lebowski, the newly rereleased Nokia 3310 from Finnish smartphone maker HMD Global might just be the phone for this place and time. This thing has nothing more than 2G connectivity (that's voice, text and rudimentary Internet browsing), a 2.4-inch color display, FM radio, an MP3 player and not much else. Why bother, you ask? Because your kid doesn't actually need a Rose Gold 256GB iPhone 7 Plus. Available in four colors, this "dumb phone" happens to be the perfect starter device in 2017.
Albert Clock
Instead of a traditional display with hours and minutes, the Albert Clock forces kids to perform simple mathematical calculations (with multiple levels of difficulty) to deduce the time of day. This makes for built-in brain training from the moment he or she wakes up until the moment they drift off to sleep. Torture device or intelligence booster? Wait for that first round of test scores to make the call.
The Penmanship Projector
When was the last time you had to print the letter Q fifty times in a row? Learning how to write can be a traumatic experience for kids. That's where the penmanship projector comes in. Using a small bulb and eight included discs, it shines an outline into the drawing area, helping that future novelist master the curves and nuances of each letter and number. If you're intrigued, don't forget to check out FollowGrams, a smaller projector that focuses on drawing.
If it moves and you don't want to lose it (i.e. your kid), track it with Ping. This device is smallest, longest-range, longest-battery GPS tracker in the world. Unlike Bluetooth trackers that only work within about 35 feet of your phone, Ping triangulates Bluetooth, cellular, and GPS data to pinpoint lost objects (and wayward kids) just about anywhere in the world. At about the size of an obese postage stamp, it can be stashed in a child's back pocket and they'll never know.
LittleBits Code Kit
LittleBits Code Kit makes the original Lite-Brite toy look like a something out of the stone age. The kit is composed of small electronic blocks ⏤ each with a unique function ⏤ that magnetically connect to one another and can be "programmed" to work together in millions of ways. From messages and animations and sounds and movements, this high-tech construction set takes game-based coding and engineering to the next level. Start preparing the cover letters now for Apple, Facebook, and Google.
If your kid is an unabashed screen addict, it might be time to consider some high-tech parental controls. One option is Unglue, an app that gives you the power to limit their online activity in a fair, transparent way. From Minecraft to Snapchat, YOU decide how long they get to spend online. Knowing the clock is ticking, kids are naturally more deliberate with their usage, and there's even a "chores and rewards" system to buy extra minutes. Admit it: You need this for yourself, too.
This article was originally published on