The Best Changing Table Toppers and Pads To Make Diaper Changes Less Gross
Because we approve of anything that makes diaper changes easier.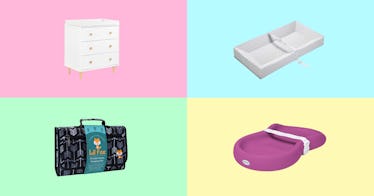 Babies go through an estimated eight to 10 diapers per day. That's a whole lot of pee and poop. Which is why, along with a crib, a car seat and a stroller, finding the best changing table ranks as a top parental to-do. Depending on your budget and needs, you can choose an affordable, straightforward baby changing table with open shelving (you can repurpose it later as a bar cart!), a changing table topper that you can attach to a piece of furniture, or a baby changing pad.
But no matter which way you go, you'll want to keep these diaper changing guidelines from the American Academy of Pediatrics in mind:
Always supervise your child on the table, even if they're buckled in. (This goes for newborns too, who can roll off with enough help from momentum.)
The top of the table should be lower than the sides, and there should be a guardrail the entire way around.
Your diapers, wipes and cream should be close enough that you can easily grab them, but out of reach of babies and other children.
This should be obvious, but even if your baby dozes off on her changing pad, never allow her to sleep on it.
And here's a little reality check, dear parents. Babies shit where and when they want. And they don't really care if there's a changing table nearby. That means you'll be changing diapers on couches, on the floor, and on your bed.
Which is why you'll get the gear, but will end up using portable changing mats. Believe it. Our favorites are below. They are all easy to clean, cushioned enough to keep your baby comfortable, and portable when needed.
The Best Changing Tables
The Best Changing Table Toppers
The Best Baby Changing Pads
Every product on Fatherly is independently selected by our editors, writers, and experts. If you click a link on our site and buy something, we may earn an affiliate commission.
This article was originally published on