This $30 Digital Dry Erase Board Is Helping My Toddler Learn to Write
The Boogie Board Play n' Trace is like a higher-tech Etch-A-Sketch.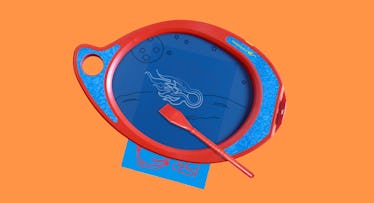 My 3-year-old daughter loves anything with ink. Whether doodling, finger painting, coloring with crayons, or using markers to draw on the walls, she's mighty with the proverbial pen. Only thing, she's not exactly progressing when it comes to creating a decipherable letter, number, or shape. That's normal at 3, of course, but I still wondered if there was a better way to channel of her love of ink into more finely tuned motor skills. Turns out, there is ⏤ but it doesn't use real ink at all. Just the opposite. It's called the Play n' Trace by Boogie Board, and it's essentially a digital dry erase board with a translucent LCD screen.
Technically, they call it an eWriter. The Play n' Trace is shaped like an artist's palette, and kids use an accompanying yellow stylus to trace the letters, numbers, or pictures positioned below the screen. (It comes with a few alphabet and number sheets to get started.) There's no mess or smudged ink when she writes, and there are no videos or apps to swipe. The Play n' Trace feels purposeful in the way that a Kindle eReader does ⏤ it's designed to help stay focused on one thing and one thing only. In this case, crafting letters and shapes. Or, at least, drawing.
MORE: The 12 Best Spelling & Reading Apps For Teaching Kids To Read Books
It didn't take long for my daughter to get busy scribbling. In addition to tracing, she would etch whatever popped into her imagination. Every jumbled assortment of lines was a dragon, house, tree. The Play n' Trace's stylus was smooth and handled well, especially considering it's a kids toy. Perhaps a bit too well, honestly, as it's great for free-flowing lines but a little tough for slow and precise practicing. The erase button is also responsive, clearing the screen in no time so you can start a new picture. No vigorous Etch-a-Sketch shaking required. Most impressive, however, is how the entire device runs on just two 'AAA' batteries.
If the Play n' Trace has one flaw, it's the translucent screen. Which is ironic, as that's the most innovative features. It's a bit dense, like gazing through an aquarium trying to spot a faraway fish. The practice sheets, meanwhile, are printed on a darker blue paper with red lettering. That double deep blue made it tough for my daughter not only to see the letters she was tracing but also her own practice lines. It discouraged her a few times, but she continued nonetheless.
Boogie Board does offer a quick antidote to the dark blue problem ⏤ a free Android and iOS app. By running the smartphone app and placing the tablet underneath the Play n' Trace, it emits a brightness that makes everything easier to see through the screen. Unfortunately, once I gave my kid the iPad, she ditched the Boogie Board and went right to her favorite apps. You can see the problem. In fact, using another device to increase the brightness kind of defeats the purpose of owning the eWriter in the first place. Elmo already teaches my kid how to write the entire alphabet in a free iOS app. It's the accompanying videos that distract my kid and keep her from moving on the next letter. The beauty of the Play n' Trace is that it's supposed to be low-tech enough to keep kids focused on writing.
Drawbacks aside, my daughter hasn't lost interest in the Boogie Board Play n' Trace. She considers it another tool in her arsenal of art supplies, and while she writes a few letters well, she's still working on consistency. It's no fault of the Trace, though — she is still 3, after all.