The Best Water Tables for Toddlers and Kids
Because getting wet never gets old.
by Hudson Lindenberger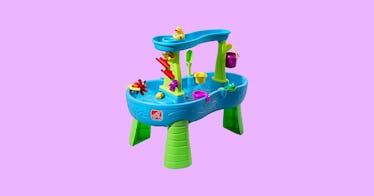 It's an undisputed fact that kids love water. An easy and low-mess way to keep youngsters entertained on hot summer days is to set up a water table for kids or combination water and sand table in your yard, or on the patio. The beauty of an outdoor toddler water table is that kids can splash around as much as they want, in a controlled setting, and at most you only need to hose them off when all is said and done.
Water tables can often accommodate numerous children, allowing kids the chance to work on their communication and social skills. Playing in water helps kids in the development of problem-solving skills since it encourages them to explore and learn about the mechanics of water (how it flows, pours, and such). And since so many water tables have moving parts, they encourage hand-eye coordination. A kid with a water table will get wet, yes, but the payoff is great.
These water tables are sturdy and well built, have numerous accessories to keep little hands and minds busy, and are low enough for a toddler to belly up to it.
Every product on Fatherly is independently selected by our editors, writers, and experts. If you click a link on our site and buy something, we may earn an affiliate commission.
This article was originally published on