These 9 New Watches Are Destined To Be Classics
2022 saw a slew of brilliant watch releases. These are the best of the best.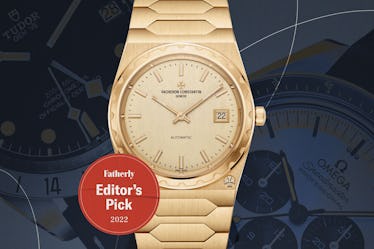 Getty / Fatherly
There's a pretty straightforward criteria for what makes a great watch for dads: Would you pass on to your kids? This simple question can easily reveal a trendy new timepiece that you impulsively buy from a thoughtful watch you will keep and care for and wear forever. Zach Weiss, the co-founder and executive editor of the digital watch magazine Worn & Wound, agrees. "The considerations for what might make a new watch a future 'classic' are very similar to what makes a watch a good candidate as a hand-me-down to one's children," says Weiss.
Most classic watches stick to the standards. There are colors, sizes, and styles that won't go out of style. Push it too far and you have yourself a fashionable splurge — not that there's anything wrong with that. Take the Billionaire Boys Club's (BBC) recent Rocket watch, for example. This playful timepiece bends the rules with its moon face, cartoon rocket hand, and large BBC branding. Is it stylish? Just ask Pharrell or George Bamford (yes, clearly). Is it a watch that your great grandkids will don? Probably not.
This is not to say you should avoid all trends. Right now, for example, watches are downsizing (The Rolex Explorer went from 39mm to 36mm this year; Tudor unveiled a smaller Pelagos dive watch reduced to 39mm from 41mm.) It's a noticeable trend that doesn't make the watch any less of a classic. Just think subtle, think long-term.
So what were the best watches of 2022? They were new releases like Tudor's Black Bay Pro, updates like the "Moonshine" Omega Speedmaster, and instant classics like an all-bronze Oris Big Crown. They ranged from Casio to Cartier, and while they followed some trends, more than anything else they have the presence to stand the test of time.
To compile this list, we talked to some of the best watch experts in the world, from writers to executives, to dealers, to find out which modern watches out this year truly impressed them enough to achieve heirloom status. Here are their picks.