6 Best Toddler Toys, According to a Play Therapist
From cardboard blocks and action figures without logos to superhero capes and foam swords.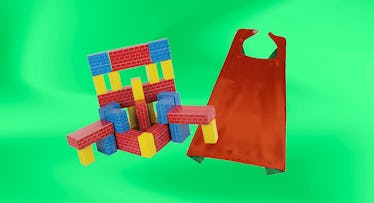 Picking out toddler toys can be a crapshoot. Once you wade through learning toys for toddlers and educational toys for toddlers, you're mostly left with … a whole lot of junk that doesn't serve much of a purpose beyond ending up in a landfill.
I should know. Every week I take my kid to a play therapist. My son is great and, because he's six and also my son, has a hard time expressing his emotions through words. His play therapist is great too but out-of-network and so crazy expensive. Regardless, it's totally worth it. Play therapy allows my son a way to express himself non-verbally and provides a professional to, to some extent, decode his play. (Like most therapists, she meets separately with us.) But you don't need to be in a play therapist to offer your kid the ability to work through their shit — or simply express themselves in a more natural way — with toys. You just need the right toys.
We recently spoke to Dr. Nick Cornett, a play therapist in northwest Arkansas — the play therapy center of the United States — to get his take on what toys he'd recommend for toddlers. According to Cornett, "the more open-ended the toy, the better." It's just like how an interviewer avoids yes / no questions; they circumscribe dialogue. Cornett divides toys up by "real life" toys, "active or constructive" toys, and "creative expression" toys. Each genre offers the kid a chance to truly express himself, and therefore a therapist to observe. Here, per Cornett, are some parameters of — and our choices for — six great toys for toddlers.
Cardboard Blocks
Cardboard blocks are great, says Dr. Cornett, since a kid can build forts, walls, and towns with them. Sounding like a parent, Dr. Cornett notes that you want to look consider, "durability and affordability." We like Melissa & Doug's Jumbo Extra-Thick Cardboard Building Blocks. This set of 30 blocks, from toy whisperers Melissa & Doug, are, well, extra-thick and come in three sizes.
A Cash Register
"Kids love to recreate scenes they see in their daily life," says Dr. Cornett. A cash register is a great example. (though, a Square reader would be even more realistic.) We Like Fisher-Price's Classics Retro Cash Register. A throwback to the golden oldie Fisher-Price from 1975, is sturdily made, comes with eight coins, and kinda looks like a slot machine, a nice if subtle jab at late market capitalism.
Food Sets
Another example of what Dr. Cornett calls "real life" toys, this food encourages kids to go shopping and to cook. We're big fans of the Learning Resources Farmer's Market Color Sorting Set which, unlike many of the other options, is not just french fries (high in sodium and easily lost) and cheeseburgers. In addition, it can do double duty as a color sorting tool.
A Doctor's Kit
Especially suitable for kids who are experiencing or otherwise coming into contact with the healthcare system, doctor's kits are also just plain fun. They encourage a range of imaginative play that can help a child enact the role of caregiver. The Battat B. Deluxe Doctor's Kit for Toddlers, which we dig, includes a sturdy carrier kit and is almost scarily thorough. With nine pieces such as a stethoscope with heartbeat sound, an otoscope, a blood pressure cuff with gauge, a safe syringe, (kid) scissors, a thermometer, and a beeper. A beeper!
A Foam Sword
"A lot of play therapy," says Dr. Cornett, "is allowing a kid a healthy release of energy." A foam sword allows wild swinging with minimal damage. This set has nice detailing, and a is a proud 28 inches long.
A Simple Cape
"A cape is a blank slate," says Dr. Cornett, "a kid can use it to be royalty or a superhero or just as a blanket." Again, you want to stay away from existent superhero logos to allow the maximum freedom for your kid.
Every product on Fatherly is independently selected by our editors, writers, and experts. If you click a link on our site and buy something, we may earn an affiliate commission.