Best Toy Storage Solutions
These crates and baskets will save your sanity.
by Lexi Dwyer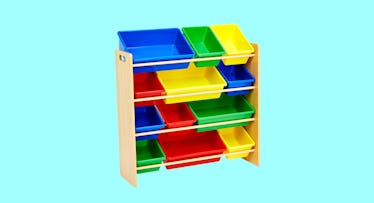 Toy storage becomes a major issue when you have kids. And thus, you need serious toy storage ideas before your home turns into a warehouse of discarded Legos and dolls.
Even if you've managed to successfully Marie Kondo your kids' stuff (which as many of us know can be tricky with youngsters around), you're still going to need to find some toy storage for the items that do spark joy. To keep the Lego sets, trains, dolls and unicorns out of each other's way, we've rounded up a variety of affordable Amazon options for toy organizers, shelves and bins, each one costing less than $100. As for convincing your kids to actually put their damn stuff away? Unfortunately you're on your own for that.
Remember that larger pieces need to be safely secured to the wall to avoid tipping; if your furniture doesn't come with any, you can buy your own anti-tip kit and install it yourself, or hire a pro to handle it.
Pros: It's well-priced for such a sturdy piece of furniture, and there's also plenty of room between the table and the floor to stash larger toy bins. It also comes with 200 "LEGO compatible" bricks.
Cons: Parents said that although most actual LEGO pieces fit on the boards, not all did. You'll also likely want to add some shallow bins to better organize the storage area.
Pros: You can use this storage basket to house games, stuffed animals, puzzles, and discarded clothing. It's aesthetically pleasing and easily segues to your living room, if needed. At 22 x 22 inches, it's the perfect size.
Cons: It does sometimes lose its shape when it's not full enough.
Pros: This stuffed animal storage bag not only gets them out of the way, but it doubles as a seat.
Cons: It's on the smaller side, so if you have a ton of stuffies, get something bigger.
Pros: They're sturdy but lightweight, and there are many different styles and designs, whether your kid is into pandas, lollipops or outer space.
Cons: The bins start around $15 (some cost even more), which is a lot to shell out if you're trying to fill a large shelving unit.
Pros: Assembly is a breeze (for most people), and the rust-proof metal is easy to clean. Anti-tip hardware is also included. Since it doesn't look babyish, you can give this piece a new spot in your home if you decide to stop using it for toys.
Cons: Some reviewers found that plastic connector pieces broke during assembly (the company does include a few extra ones), and that the unit seemed small once it was put together.
Pros: The bins make it easy for kids to see what they've got and (ideally) put their stuff back when finished. Parents also loved that assembly was fairly easy and straightforward.
Cons: A few parents wished the bins were larger—because of the angle, they can't be filled to the top. There were several reports of bins arriving cracked.
Pros: Many parents found it easy to put together (an electric screwdriver helps things go more quickly) and attractive enough to use even in a living room or family room.
Cons: There were many comments about missing hardware, and some reviewers said they received furniture that had already been opened and was damaged.
Pros: It's got classic good looks, doubles as a bench (some parents add cushions) and has safety hinges to keep the lid open and prevent smashed fingers.
Cons: It's pricey, and this type of storage can quickly become a black hole for toys (although it would work well for larger, bulkier items like stuffed animals or balls).
Pros: The ideal system for parents that have kids into small items that are always under foot, this large mat acts as a play area and storage system at the same time. Expand it and you have a designated play area with boundaries; when playtime is over you can cinch it shut in seconds, and either dump out the contents and hang it up, or toss the full bag in a corner until the next time.
Cons: The drawstring isn't quite as durable as some had hoped.
Every product on Fatherly is independently selected by our editors, writers, and experts. If you click a link on our site and buy something, we may earn an affiliate commission.
This article was originally published on