The Best Portable Play Yards for Restless Kids This Summer
While your toddler safely, happily explores, you can safely, happily drink a cup of coffee.
by Donna Freydkin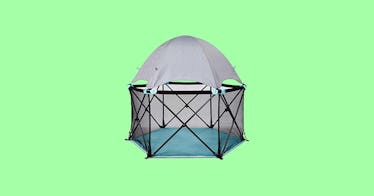 At some point in your parenting journey, you're going to want to drink a cup of coffee. Or, dare to dream, use the bathroom. Alone. Without holding a squirmy infant. That's why you need a play pen. As the name implies, it pens in your child, freeing you up to do other things. And now, with the advent of spring and summer, you're going to want an outdoor play yard. The best play yards are lightweight, since you'll be moving the thing around. They can be used indoors and out, and are easy to set up and take down, for obvious reasons (unless you're a glutton for punishment). They provide protection against the sun and bugs, and they allow easy entry and exit, for when you're ready to take your child indoors. And though it might be tempting to go inside and read a book (remember those?) while your kid is in her pen, remember that your child should be supervised at all times.
The Best Portable Play Yards for Summer 2021
Every product on Fatherly is independently selected by our editors, writers, and experts. If you click a link on our site and buy something, we may earn an affiliate commission.