6 Pairs of Underwear That Will Save You From Swamp Crotch
The heat tests your testes but these undies keep 'em cool.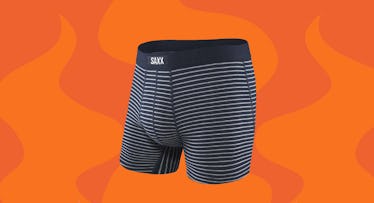 Summer is hell on your scrotum, the heat-hating sack that hangs outside of your body for the very specific reason of staying cool in the first place. Unfortunately for mens' crotches everywhere, the combination of summer's heat and society's insistence on clothes creates a tropical maelstrom, a ball-oven, a penis-sauna. Too often underwear, a garment meant to offer support and comfort, becomes an unwitting accomplice in this sperm-murdering swamp-crotch-creating scrotal warming. Happily, with the advent of wicking technology and much more breathable fabrics, a platoon of briefs have stepped forward to answer the call of the balls. Here are eight excellent pairs of underwear that will keep your testicle A and testicle B well-ventilated and minimally cramped while still offering support.
Bonobos
Naturally wicking fabric with mesh panels for even more ventilation, these trunks from Bonobos, famed makers of festive pants, is available in a panoply of colors. This underwear, which I like because my thighs yearn to breathe free, have a 3″ inseam but with only a 5″ inseam, the boxer-briefs are more brief-y than boxer-y. Either way, the pairs are 47 percent cotton, 47 percent acrylic, six-percent spandex and 100 percent ball-friendly.
ExOfficio Sol Cool Cooling Underwear
Since 1986, ExOfficio has been ventilating things. What started off with The Baja Shirt has expanded to shirts and pants and hats, most germane for us, underwear. The new Sol Cool represents a quantum leap for scrotum comfort. Made of jade-infused (JADE-INFUSED!) nylon and mercerized cotton (mercerization is a process by which the cotton threads are made to feel even softer) the underwear adapts to your own body's temperature. They're fantastic. Note: These babies run large so consider ordering a size smaller than normal.
MeUndies
No joke, my mother-in-law was in town from Brazil and folding laundry, because she's awesome, and came across a pair of this underwear. I get them delivered every month so I have a lot. Anyway, she thought they were so cool that she looked up MeUndies online and then spent the rest of the week laughing at me that I had subscription underwear service. But give the lady credit, they are cool. Literally, they are cool on my balls. Like the other pairs mentioned, these are super soft, moisture-wicking and breathable although here the cause is MicroModal. The fabric is made from a European beech wood tree, is 50 percent more absorbent than cotton and maintains its color much longer than cotton.
The Duluth Trading Company Armachillo Cooling Boxer Briefs
The Duluth Trading Company specializes in serious work-wear with un-serious names. The Armachillo Cooling Boxer Briefs are a good example. At 4.9 ounces, they are heavier than your average cooling underwear but the microscopic jade-embedded (jade again!) fabric is cool to the touch and the fabric has also been odor-treated. I personally like how thick the waistband is — 1.5 inches — which forestalls any uncomfortable pinching.
Pair of Thieves
As one of our writers can attest, these moisture-wicking briefs fended off his swamp crotch during Miami summers. Made of microfiber polyamide with four-way stretch and mesh panels, the form-fitting underwear is as comfortable as a second-skin so you look like a Ken Doll but feel as cool as a GI Joe.
Saxx Boxer Briefs
Founded by Canadian baseball player — and now marijuana mogul — Trent Kitsch, this underwear is full of crotch-friendly technology. Inspired by a catcher's mitt, these briefs' BallPark Pouch (get it?) gently cups your balls. The 3-D fit allows your penis to do its thang without being smooshed and the Flat-Out seams don't agitate the sensitive skin of your buttocks. The moisture-wicking viscose fabric comes with a touch of Spandex to afford the necessary give.
Every product on Fatherly is independently selected by our editors, writers, and experts. If you click a link on our site and buy something, we may earn an affiliate commission.
This article was originally published on