The Best Men's Sandals At Any Price
Flip flops: great for summer, terrible for politics.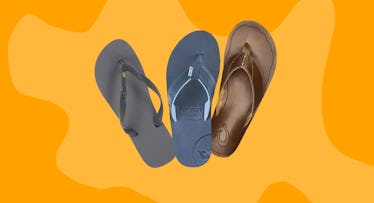 Summer is sandal weather. Run, toes, run and be free! It is the Fatherly position that though there are many "statement sandals" with straps up the wazoo and fancy buckles, sandals shouldn't be a statement. There's a time and place for everything. Funerals are no time to talk business, weddings are no time to talk funerals, and sandals are not there to be a statement. Secondly, when we say sandals, we mean casual sandals for walking around in, not hiking sandals, which, in most circumstances, you don't need.
There are really only two parts to sandal: the footbed and the thong, the latter of which is also called a line strap. Most importantly, when you're talking about flip-flops — which are the ideal form of the sandal — is the quality of the thong that slides between your big- and your index-toes. A poorly formed thong can bring a man to his knees. Next, you must consider the amount of padding of the sole. Too much and you look like you're wearing platforms; too little and your knees will be like, duuuude, you're killing me. Here are three pairs of men's sandals that offer comfort, support, and style. One word of advice: please, for the love of all that is holy, clip your toenails before putting them on.
Best Low-Priced Men's Sandals: Havaiana
There should be no surprise that the best, most affordable, option for men's feet are Havaiana's. Every second, ten pairs of Havaiana's are sold somewhere around the world. What's surprising though is that these sandals, synonymous with Brazil, were actually inspired by the Japanese-via-Hawai'i diaspora that settled in that country. (Havaiana is Portuguese for Hawaiian.) The textured top are a nod to the Japanese traditional sandal, the Zori, which is made with rice straw. Since the early 1960s — and therefore intimately tied to the tropicalista movement — Havaiana's have been one of Brazil's most popular shoes. Now in countless colorways, you can pretty much find whatever combination you want. We still go for the original dark green, which is rather forgiving for the filthiness of our feet.
Best Mid-Priced Men's Sandals: OluKai Nohona 'Ili
Hawai'i-based OluKai makes premium flip-flops with EVA-rubber footbeds and premium leather tops. They have a ton of styles, which range primarily in terms of the thickness of soles and level of performance This model is in the mid-range (Like we said, performance flip-flops are an oxymoron, except I guess for their Hawaiian lifeguard line.) But what we love about them is the generous leather strap, the well-molded thong, and two-toned footbed.
Best High-Priced Men's Sandals: Hari-Mari X Peter Millar
For a buck and a quarter, you get jersey-lined memory foam strap, premium Horween leather and some dope-ass colorways, well three: chocolate, cognac and navy. These flip-flops are a collaboration between Millar, the luxury menswear maker, and Hari-Mari, a company founded by husband-and-wife Jeremy and Lila Stewart with an emphasis on quality material and simple bold colors.
This article was originally published on