The Best Carry-On Luggage for Families and Kids
We can't fix holiday travel woes, but we can help point you to the luggage that will help your family travel go a bit more smoothly.
by Dave Baldwin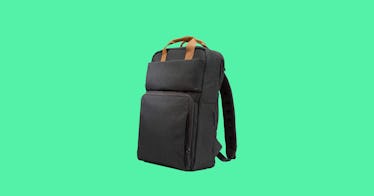 When it comes to traveling with kids, no form of transportation is without hassle. You can't control bumper-to-bumper traffic or flight delays, but smart carry-on luggage can make going from point A to B slightly less hellish. Seriously, do you want to be the parent fumbling for yogurt melts in your suitcase while your three-year-old holds up the security line? Here are 12 innovative bags, suitcases, carry-ons, and other carry-on luggage for kids to help keep you organized and ensure the next trip is smooth sailing — even if you're not taking a boat.
RELATED: Here's the Travel Gear Experienced Dads Think You Need
BedBox by JetKids
BedBox is a hardshell ride-on suitcase for kids that converts into an in-flight bed once you're airborne and free to move about the cabin. All you have to do is flip the suitcase's lid, extend the plastic bedplate, and roll out the mattress. The bed is designed to be used by the window (although it works in the middle too) and allegedly fits every type of plane seat. For added safety, you can attach the seat belt under the child's armpits to keep them from knocking into your tray table. And, of course, when you have to return your seats to their full, upright, and locked position, bedtime is over.
Two Wheel Gear's Executive Garment Pannier
The Executive 2.0 is a limited-edition, saddle-meets-garment bag for bike commuters. The carry-on luggage uses a universal mount to fit on the back of any standard two-wheeler, is made of water-repellent waxed canvas, and keeps three-five work shirts/suits looking as fresh and wrinkle-free as the day your kids didn't play hide-and-seek in your closet. Even better, it fits in the overhead bin and doubles as a carry-on for those work trips off the beaten bike path.
Tier 1-D Bags
Jack Osbourne — father, adventurer, and son of the Prince of Darkness — designed the Tier 1-D to handle your "toughest missions." The carry-on luggage is made from military-grade materials, and has adjustable Molle panels to add extra pouches and gear, and comes in three sizes: The Range (big), the Messenger bag (bigger), and the Deployment Tote (you and the kid are never coming home).
Raden A22 Carry-On Luggage
Why not give your carry-on luggage a few more IQ points? The Raden A22 is a carry-on built like a battering ram that can be located anywhere in the world via a smartphone app that works about a thousand times better than the airline's own luggage tracking system. It can also charge your phone four times with its 7,800mAh battery.
Trunki
What better way to get kids excited about toting their own crap through the airport then by turning it into a fun ride! Trunki is a hard-sided suitcase for kids with wheels (and steering horns!) that children can ride or, more likely, you can tow down the jetway. It comes in one 12 colorful characters/themes (bumble bee, Hello Kitty, a double decker bus), can hold up to 75 lbs, and converts to a bedroom storage trunk when your little road warrior isn't on the go.
Nomatic
Modestly billed as "the most functional travel bag ever (!)," the Nomadic carry-on luggage is a two-in-one backpack/duffel that's loaded with a wish-list of versatile features for frequent travelers: Vacuum bag to save space? Check. Internal laptop/tablet pockets so you can leave your messenger bag home? Check. Lined water-bottle pouch so your clothes don't get soaked when it inevitably leaks? Check. Not only that, but it's loaded with pockets (some of which are RIFD-protected for your valuables). It also maintains separate shoe (and sock) compartments and comes with its own collapsible laundry bag. Things get dirty on the road.
Fugu Travel
Consider your pre-trip "small-versus-big-bag" dilemma a thing of the past. At first glance, the two-in-one Fugu Travel looks like a handsome hard-case roller that easily fits in the plane's overhead compartment. Press a button though and — bam! — an internal motorized air pump inflates the walls and it grows into a full-sized upright bag with shelves that can be checked. It weighs 10 lbs and can be customized with GPS tracking, a Powerbank/USB charger, and portable laptop case. It also pops up. Can't stress that enough.
HP Powerup Backpack
From the outside, the HP Powerup is a handsome, nondescript gray canvas backpack with reinforced leather handles. But open it up and prepare to be… electrified. Inside the front pocket, there's a single 22,400mAh/84Wh battery that can charge up to three devices, multiple times: A laptop (once), a tablet (three times), or your phone (10 times).
North Face Base Camp Duffel
Whether you're taking the kids on an epic outdoor adventure or heading on a rare road trip with the guys, the water-resistant Base Camp boasts enough room for three to four days worth of gear. If that turns to five or six days, the separate compartment for shoes/dirty laundry and compression straps to cinch it all up will give you some wiggle room. The carry-on luggage even comes with backpack straps to help you shoulder the load.
Fjallraven Kånken Mini Daypack
Not much has changed about this icon of functional Swedish design since 1978, which is probably why it remains an icon of "vintage" hipster style in 2016. The Kanken isn't just about ensuring other parents nod approvingly at your kid's backpack in the airport, though. The carry-on luggage also eases the burden on their backs by distributing weight equally across both shoulders — meaning you don't have to feel bad teaching them your "don't pack it unless you can carry it" travel mantra.
BRICA Cover Guard Car Seat Travel Tote
Look, you didn't pay hundreds of dollars for a car seat only to let the baggage handlers beat the hell out of it. The BRICA Cover Guard makes it easy to haul your convertible/forward facing seat through the airport (thanks to both wheels and backpack straps) and safely gate check it (or use it on the plane). Thanks to an easily accessible pocket, you can also stuff it full of snacks.
Modobag
Call it a Trunki for adults (sans the colorful bumblebee aesthetic). Modobag is a motorized carry-on suitcase that, depending on your self-confidence, you can ride through the airport. Extend the telescoping handlebars, drop the foot pegs, and hit the gas (figuratively — it's battery powered). It reaches top speeds of eight mph and holds up to 260 lbs. That means one end of Atlanta's Hartsfield International Airport to another four times (eight miles total) on a single charge. It can also power all of your electronic devices with that battery. Big catch: It weighs a beefy 19 pounds (excluding your Duty-Free purchases). Although, it's not like you're carrying it around. That's for amateurs.
Canailles Dream
This carry-on luggage is a stroller, crib, rocker, baby bath, changing table, high chair… Oh, and it's also a suitcase. The Canailles Dream may be a bit too big to carry on, but with all the extra features, this French-made six-in-one roller suitcase makes taking your baby on vacation that much easier.
Bagrider
For parents who don't want to bring a stroller and luggage to the airport, this 35L roller suitcase rocks a baby carrier built into the handle. Kids up to 33 pounds simply sit on the suitcase (strapped in, of course) and lean back against the cushioned supporting poles. There's even a wheel/brace that folds out from under the suitcase for extra support.
This article was originally published on