The Best Halloween LED Lights For Your Haunted House
Because you can do better than plastic pumpkin lights.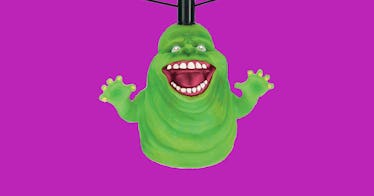 You cannot call yourself a proper Halloween aficionado if you don't have proper Halloween lights and even a Halloween light projector.
Christmas gets all the hype, but Halloween decorating is way better. You can turn your yard into a full graveyard, haunted house, or zombie graveyard that leads into a haunted house. And while Jack-o'-lanterns and hanging skeletons are great, Halloween lights really bring a creepily curated yard to the next level. We don't mean simple pumpkin lights. Rather, we mean some of these lights, lanterns, and effects packages, which look great and help you go to the next level. Here are our favorite Halloween lights to use.
The images shift from one to another when you turn on this waterproof light projector. You can use it indoors or out, and you can project onto any wall, curtain and even ceiling with the adjustable 180 degree bracket joint.
You get three sets of lights: Bats, pumpkins, and ghosts. The remote control lets you decide if you want the lights to flash, or whether you want things spooky and dim.
Set the mood without starting a fire with these Halloween LED candles. They're fun to look at, and definitely make things scary in a kid-friendly way.
Use the stake and stick this thing in the ground. Don't worry, it's weatherproof. It comes with 16 slides, so you have every season covered. We're partial to the wacky witches and goblins.
The rusty, chain-operated lightbulb is a classic horror trope typically used to illuminate some kind of basement torture chamber. In short, it's scary, and with this plug-in fixture you can bring some of that fear into your own haunted home. The included LED light has the appearance of a much older Edison bulb that flickers ominously, a sure sign that restless spirits are nearby.
When its motion sensor is activated, this Slimer light will play the Ghostbusters theme song and slide back and forth along the cord on which it's hung. The green goober's eyes light up and his whole body glows in the dark, too, so he looks especially cool at night
Every product on Fatherly is independently selected by our editors, writers, and experts. If you click a link on our site and buy something, we may earn an affiliate commission.
This article was originally published on