The Best Gas Grills & Grill Accessories You Need To Cook Every Meal In The Backyard
by Jonathan Stern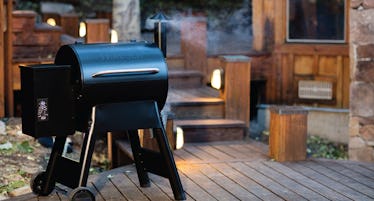 In your ideal version of summer, all the food will be cooked outdoors on the gas grill. From giant racks of barbecue ribs for dinner, to pizza night in the stone oven, to eggs — well, those went right through the grate. Below are all the recommendations for those looking to either upgrade their existing grill or just shove everything off the deck and into the trash. Go ahead and remodel with the best gas grills and grill accessories your neighborhood has ever seen. Your wife and kids will definitely be on board.*
(*Onboard-ness may vary from family to family.)
Grills
Trager Pro Series 2016
The Trager Pro Series 22 is a wood pellet-fired grill and smoker that cares not what you charcoal and hard wood purists think. It uses heat probes and a digital temperature gauge to make sure things don't flare up or get too hot and, like a no-bullshit Ron Popeil, you can set it and forget it. The grill offers six-in-one cooking options, like smoking, baking, grilling, or broiling. But most importantly, it means your ribs won't be ruined just because you had to chase your toddler who chased your dog down the street.
RoccBox Wood-Fired Oven
Grills are great for getting those nice char-lines on your chicken boobs, but the RoccBox, with its traditional stone floor, is the optimal home for your pizzas and casseroles. But who are you kidding — you don't make casseroles. The oven can use wood fuel or propane and heats up in about 15 minutes. Best part: You put some dough, sauce, and cheese in this thing and a bubbling pie with crispy, charred crust comes out about 90 seconds later. You may want to tell the kids to wait another 90 seconds before taking a bite.
Weber Spirit E-210
As a father, you've learned that convenience trumps hunger. It's the reason God made the microwave, Pop Tarts, and the toddler pouch. Propane grills are the convenient choice for most people. The Weber Spirit E-210 is a solid grill with an attractive price and doesn't need to be wheeled off your porch with the help of a pickup truck. The 2-burner model will handle enough hot dogs, hamburgers, and corn for a family of four and, while the neighborhood pitmaster will look down their nose at you, you're the one that's eating steak in 12 minutes instead of brisket in 12 hours.
Tools
Misen Knife
All a chef really needs is a good knife. And an apron. And some pots and pans. And food. But mostly the knife. Misen has just introduced a blade forged from Japanese steel (not quite as good as Hanso, but close), with 15-degree blade angle (the more acute the angle, the sharper it is), and a Rockwell Hardness rating of 58-59 — which will never stop being hilarious to you. Bonus: Misen will sharpen it for the life of the knife.
iGrill 2 Bluetooth Thermometer
Nest is keeping the house cool. Alexa has your playlist on shuffle. Siri knows if it's going to rain this afternoon. But what device is making sure the chicken doesn't dry out? The iGrill 2 is a Bluetooth-connected device that uses four probes to monitor the internal temp of your food. Pair it to the smartphone app, go wander down to the kiddie pool (up to 150 feet away), and it will alert you when the food is done. Is Google X working on a burger-flipping robot yet?
BBQ Dragon
You can start having the kids call you Mr. Targaryen, because this device is about to make you Father Of Dragons. With the BBQ Dragon, you can get those coals to a blistering temp without the wait. Basically, this thing is a low-velocity fan that takes the place of you blowing on the coals while your kids whine that they're hungry. It also means that you don't have to use a ton of lighter fluid just to get things going. Oooh, your eyebrows like the sound of that.
Stingray BBQ Multi Tool
When you were growing up, all your stupid Transformers did was turn into cars, jets, or realistic looking handguns (Jesus, the '80s were crazy). The Stingray seven-in-one multi-tool is definitely the Autobot you need for the next cookout. It's a spatula, two types of tongs, fork, and a bottle opener on the other end. Because all that functionality has worked up a powerful thirst in you.
OXO Meat Claws
Your kids already think that you're a hero — and if they don't, you're not telling enough lies during the bedtime story. Back up your Wolverine-like healing abilities with these meat claws that will turn pork shoulder into carnitas or chicken into shredded chicken. They're not made of adamantium (it's actually hard plastic), so they're only heat resistant up to 450 degrees. But they do extend out, so you don't burn your fingers on hot pork juice. Which wouldn't be a problem anyway because of that healing ability you told them about.
Klein Tools BBQ Set
Back in 1857 Mathias Klein of Lincolnshire, Illinois was the king of pliers, making tools for guys who worked on the telegraph poles. Now they're on the belt of every electrician worth his union card. For those that can barely change a lightbulb, but have superior grill skills, this spatula and fork set features the same cushion-grip ends as the ones tradesmen use in the field.
Books
Ever since the first caveman told his buddy that he's overcooking that wooly mammoth loin, barbecue experts have been weighing in on what makes the ultimate piece of charred animal protein. Here are a few books that will inspire you to create hardcore hamburgers, dressed-up hot dogs, and professional-grade smoked meats.
Porn Burger by Matthew Ramsey
Franklin BBQ: A Meat-Smoking Manifesto by Aaron Franklin
Haute Dogs by Russell van Kraayenburg
The Prophets Of Smoked Meat: A Journey Through BBQ Texas by Daniel Vaughn
Food
Joe's Kansas City BBQ Kit
Sometimes you want to spend hours tenderizing, seasoning, and smoking. Most of the time you just put your head in your hands and ask, "Can't someone else do this?" Yes, someone else can. His name is Joe, he lives in Kansas City, and he's been making the best BBQ burnt ends, brisket, sausage, and ribs for 25 years. Order a "Contest In A Box" and judge your meat just like those gluttons at the Kansas City Barbecue Society.
Accessories
Kamado Joe Ceramic Stand
Beer can chicken is probably the best invention of the 20th century, just ahead of the polio vaccine and space flight. The Kamado Joe is the more upscale way to cook a bird from the inside out. Just fill the cup in the middle with basting liquid (read: beer), stick the chicken or game bird on top, and put it on the grill. The ceramic keeps the heat radiating throughout so you get moist poultry every time. Just try not to lose your appetite by using the word moist.
Fire Wire
Save room on that grill by curling up your kebab skewers. These stainless steel wires allow you to string together meat and veg, toss it in a Ziploc to marinate, and throw it right on the barbecue. The handles also stay cool, so you're not trying to do that ill-fated move of turning a kebab skewer with a pair of tongs.
Slotdog
The guys at Slotdog had a dream — and that dream was that you'd stop boiling your kid's hot dogs. Your grill is sitting right there, why not make their favorite food behind mac and cheese more flavorful and give that natural casing a nice snap? And if you already own corn-on-the-cob holders or Keyboard waffle iron, who are you to judge ridiculous food gadgets?
Chuck Wagon Dinner Bell
Get everyone to the table on time with a cast iron dinner bell. Actually, it's a not a "bell" per se, but one of those triangles you ring. You can pretend that you're a pioneer on the chuck wagon in the romanticized Old West, instead of eating cold beans and suffering from dysentery like the real Old West.
This article was originally published on