5 Great Electric Rides For The E-Bike Curious
From folding bikes to family haulers, the latest e-bikes are fast, fun, and filled to the brim with useful tech.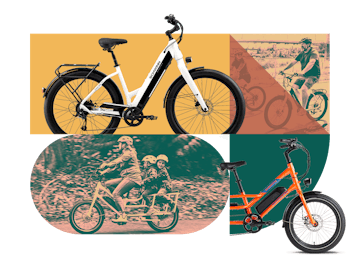 We may receive a portion of sales if you purchase a product through a link in this article.
The electric bike revolution is finally here. E-bike sales are outpacing electric car sales around the world, and because of their greater numbers, they have the potential to do more to reduce pollution and traffic congestion than electric cars. Viewed simply as recreation tools, electric bikes for adults may seem expensive. But as electric vehicles, they're a bargain. And because it's so much faster and more convenient to charge an e-bike than an electric car, they may be the best bridge to our electric future while we await widespread car charging infrastructure.
With so many options, it can be difficult to differentiate the best classes and features for your needs. Do you want to take it on a bike path? Then you better buy one that is classed for that. Then again, if you're looking to do a serious commute in the bike lane and on major roads, you probably want one built for covering serious distances. Do you plan to carry kids on the back? A surfboard? Food deliveries? Then you need to focus on weight capacity and cargo space.
We looked at e-bikes across various designs, classes, and use cases. They were evaluated in terms of design, value, ideal use, brand longevity, terrain, and portability, among other factors. We settled on these five bikes, which cover a wide range of categories and budgets to help you make a purchase you'll be very happy with.
Before You Buy: Understand The Classes Of E-Bikes
It's important to understand e-bike classes and top speeds before you go shopping. Otherwise, you may end up with a bike you aren't allowed to take on your favorite route. Here's a breakdown:
Class 1 bikes: These rides have pedal assistance to a top speed of 20mph, but no throttle, so you must keep pedaling. They're allowed on multi-use bike paths with analog bikes. The VanMoof S3 below is an example of a Class 1, though it has a Boost button that can be used for a short burst of power.
Class 2 bikes: They have a throttle and pedal assist, a 20mph top speed, and are also generally allowed on bike paths with analog bikes.
Class 3 bikes: These do not have a throttle and are speed limited to 28mph. They are generally not permitted on multi-use paths, and in some states, you must be 18 to ride one, but you are allowed in bike lanes and on roads without any additional insurance or license.
And just remember: Regulations vary by location, so before investing in an e-bike, it's important to investigate what restrictions apply in your area.
5 Excellent E-Bikes For All Types Of Riders
The Electric Bike Accessories To Make Your Ride Smoother
Full-face and locking helmets, GPS trackers, and tough bike locks will keep you and your investment safe.