11 Awesome Dinosaur Toys & Robots For Kids
Including a roaring dino mask and a Raptor-bodied Power Wheels racer that, yes, is a very clever girl.
by Dave Baldwin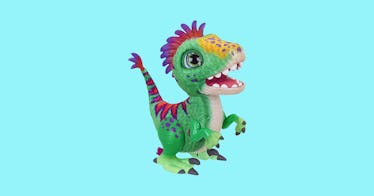 Kids love dinosaurs. It is this truth that we hold self-evident. As such there are always lot of excellent dinosaur centric toys hitting shelves. But which are the ones you should consider? From pterano-drones and T-Rex play sets to roaring velociraptor masks and good 'ole Lego sets, here are some of our favorites.
FurReal Munchin' Rex
The latest in Hasbro's FurReal line of interactive animals/creatures, Munchin' Rex is an adorable baby dinosaur that eats 'broccoli' and caveman cookies. He also has more than 35 sounds and motions⏤ including slurping, burping, and sipping ⏤ and will roar if you pet his head.
Melissa & Doug Dinosaur Party Play Set
Consider this set from Melissa & Doug a starter kit for dino lovers. It features nine mini dinosaurs and a wooden case which serves and transports them (it's way better than using the bottom of a shaving cream can). Yes, a T-Rex, Stegosaurus, Velociraptor, and Triceratops are included. But it also includes such lesser known creatures as Parasaurolophus, Pachycephalosaurus, Ankylosaurus, Apatosaurus, and Plesiosaurus.
Laser Pegs 20-in-1 T-Rex
Comprised of 403 plastic building blocks — including six light-up power bricks, three light up pegs, for a total of 15 LEDS that flash and pulse — this set lets kids construct a 12-inch tall T-Rex with glow-in-the-dark teeth that can roars and move its legs and (oh-so-short) arms. The finished product looks more like a cartoon-y Godzilla with dentures (the glow-in-the-dark teeth snap in place and look a little silly). But we say that adds to its character.
Power Wheels Jurassic World Dino Racer
Inspired by Blue, the star Velociraptor of Jurassic World, this 12-volt Dino ATV can go off-road and hit top speeds of six mph. It also offers a parental high-speed lock for beginner dinosaurs wranglers. Clever girl, indeed.
Chomp 'N Roar Velociraptor Masks
This mask is ideal for anyone who wants to play the part of a very clever girl. The eyes move inward so you can focus on your next meal, and the electronic jaws open to different degrees — each with its own unique roaring sound effect. So if you want to show off their intimidating set of teeth, just open wide.
Kamigami Dinosaur Robots
Built by folding and snapping together flat sheets of plastic, Kamigami robots include a bevy of sensors (3-axis accelerometer, gyroscope, etc.) and are programmed using a tablet or smartphone ⏤ so kids get those highly touted STEM skills. The Jurassic World "Blue" or Villain Dino versions come with anatomically correct legs and life-like dinosaur movements.
WowWee 14" R/C RoboRaptor
WowWee's bionic beast measures in at more than a foot long. It can walk, run, or stalk via its included remote, or by using the app on your smart device. The RoboRaptor features multi-speed dynamic movement, plus fast, full-function arms with dual grippers. It's even programmed to play tug-of-war with you, or your Goldendoodleasaurus.
Jurassic World: Fallen Kingdom Super Colossal T-Rex
Based on the iconic beast from the JW series, this toy, one of our favorites of the year, is a whopping three feet tall and features authentic detail, movie-inspired markings, and articulated arms and legs for realistic action. It has extra-wide jaws that, when opened, can swallow mini dino action figures without even a burp. Want them back? No problem — just open up SC T-Rex's belly and watch them fall right out. It's like the miracle of birth, but much less messy.
Jurassic World Pterano-Drone
A full-function, quadcopter drone married with a realistic Pteranodon, this remote control toy performs stunts and flies up to 25 feet in the air. The Pteranodon's wings flap as it rises and falls, while an "Auto Circle" mode recreates the hunting of prey. Even better is the"Auto Land" mode, which swoops you in for the kill — or helps your kids land it without clipping the patio furniture. It charges via USB, and comes with a handful of replacement propeller parts, should it sneak up on the wrong woodpecker.
Meccano Mecasaur
If you can't dig up a dino in your backyard, why not build one with the kids instead? The Meccano Meccasaur, which is from the same company that makes the classic Erector sets, is a 715 piece programmable robot that you build up to be your new prehistoric pal. Once assemble this fully mobile, three-food T-Rex roars, responds to being pet, "attacks" on command, and stomps around.
Lego Jurassic World Carnotaurus Gyrosphere
This 577-piece packs a lot of punch for $80 and includes everything from a gyrosphere (those transparent balls Chris Pratt and Bryce Dallas Howard run around in during the movies), truck, and trailer, to three mini figurines, a baby dinosaur, and a not-baby Carnotaurus. And in the spirit of the Jurassic World franchise, you can mix-and-match the dinosaur parts to play God and laugh in the face of nature.