Best Coolers You Can Buy
These are the best coolers that will last a long time and keep your drinks and food cold.
by Jon Gugala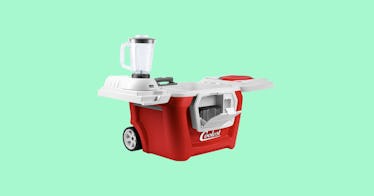 Without a great cooler, your cookout or camping trip will bite the dust.
Whether you're the camp cook, a backyard barbecue enthusiast, or an intrepid outdoors buff, you need a cooler. It's an indispensable piece of gear that's especially critical during the warm spring and summer months, when you're going camping, or fishing, or just having a picnic with friends.
So what kind of cooler is for you? A soft-sided color is great for those on the go, because they're easier to lug around. If you're going whitewater rafting, get a waterproof one. Hard-sides coolers, can be backbreaking if they're fully loaded, but do keep things very, very, very cold. If you do opt for one, get one with wheels so they're easier to move around and make sure it has an insulated lid and seals tightly when you close it.
Related: This Heated Folding Chair Proves Your Tailgating Chair Sucks
As for the size of your cooler, it's dependent on what you're cooling (sort of obvious, but hey), and how much space you need. If you just toting around a few drinks, go for a smaller size. But if you're spending a week hiking and hunting, choose something bigger that will keep your food fresh. And remember, the more often you open a cooler, the more cool air escapes, so pack it tightly.
Here are some of the best coolers you can buy, based on our criteria and research, plus user reviews.
Pros: This Yeti cooler is bear-resistant, which is a huge bonus if you're going camping. It's virtually indestructible and has latches made of heavy-duty rubber for total durability.
Cons: As with every Yeti cooler, the price is a bit harder to swallow than a cold beer.
Pros: This Engel cooler features rugged TPU construction. You can carry it three ways, using the shoulder strap, side handles or top-grab handles. It draws excess air from the insulation to maximize ice retention, meaning your stuff cold, longer. Plus, it has a removable bottle opener for the 48 cans you can fit inside.
Cons: Beware that this cooler doesn't live up to its promise of keeping things cold for four days. Some customers say it barely chilled their drinks for one day.
Pros: A 54-quart capacity will hold enough hot dogs for you, your family, and the local Boy Scout Troop. Retaining its ice for up to four days, it's as good for the barbecue as it is for most car camping. The pioneering design of a leak-resistant channel drain allows you to empty it without having to tip it on an angle.
Cons: As its name suggests, its performance comes through some heavy components. Add in ice and a max capacity of 84 cans, and you're dealing with a near immovable object, so bring a friend. For those for whom weight is a consideration, consider other, more modern coolers made from modern (read: lighter) materials.
Pros: Chances are good that you've grabbed a soda or beer out of one of these white behemoths, a mainstay of the cooler market for years. Its 120 quarts of capacity is just gratuitous; that's enough space for 188 cans.
Cons: This thing is so big that it's extremely heavy when full, and while instantly recognizable its all-white exterior isn't super attractive brand-new and gets dirty easily.
Pros: This cooler boasts ColdCell Insulation, which is essentially a closed-cell foam that keeps up to six cans cold. It has a leak-proof HydroLok zipper, and a wide mouth for easy access. And the exterior is waterproof and mildew-resistant. It weighs just under three pounds when empty.
Cons: It's too small for some, and the zipper can be cumbersome.
Pros: Like the industry leader it copies, RTIC's cooler comes in a variety of fun colors. It's also rotomolded and features three inches of insulation in its durable, drop-resistant walls. Secure hinges, a slanted drain system, and cord-based handles all make for a reliable performance-based cooler. Side by side, we're betting a Yeti wouldn't keep an ice cube any colder for any longer.
Cons: Put us in a darkened room and ask to us to tell RTIC's option apart from a Yeti, we couldn't do it. But it's rarely pitch black at a barbecue. If you're the type—and hey, no judgment—to whom brands matter, no facsimile will replace the real thing. Just go buy a Yeti.
Pros: This cooler fits 54 cans, but folds up when you're not using it. It keeps your drinks cold for up to 32 hours, and has a zippered main compartment keeps in the cold. Plus, you can't beat the price.
Cons: Would be nice if it had more pockets.
Pros: You can carry this cooler two ways. Use the padded shoulder straps for lighter loads, or the side straps for heavier loads. It's got a no-sweat exterior and an anti-microbial liner. Just wipe it down between uses. This specific style fits 30 cans.
Cons: It's difficult to open and close, for some, and the five-day promise can be a bit iffy.
Pros: The Nylon Line cooler is so overbuilt that it seems to have a Napoleon complex. Inch-thick insulation, an FDA food-grade nylon liner, a 1,000-denier outer shell fabric, and a rustproof weatherized YKK zipper combine to make a cooler with a chip on its shoulder. It comes in a few sizes (this one holds 24 cans) and some fun colors, with a look that's unlike any other on the market.
Cons: Those driving into the backcountry will balk at its inability to keep ice cold for weeks on end—Polar Bear only claims 24 hours at 100-degree heat, meaning that this should be viewed for most a day-at-the-beach bag.
Pros: The interior and exterior of this cooler are both BPA-free. Like the Hommitt, you have options when it comes to carrying it. With its detachable shoulder strap, top handles and two reinforced side grab and go handles, you can tote it around whichever way you want. It fits 30 cans plus ice.
Cons: The zipper issue rears its head again, with customers complaining about having issues with it.
Pros: This majestic cooler keeps your contents cold for 48 hours, while also being lightweight. It doesn't leak, and has welded seams to make sure liquids stay inside the cooler. The food-grade BPA-free liner is free from toxins, is mildew-resistant, anti-microbial, and is easy to clean.
Cons: The price.
Pros: Yes, this cooler keeps stuff cold. But wait for it. This is a tailgate on wheels. You can add the blender lid so you can make your own mixed drinks, or add a solar panel lid to charge your phone. For real.
Cons: Really, do you need a cooler that's this tricked out?
Every product on Fatherly is independently selected by our editors, writers, and experts. If you click a link on our site and buy something, we may earn an affiliate commission.
This article was originally published on