7 New Colognes for Men to Wear This Summer
Just as you switch out your shirts for summer, you should switch up your scent. Here are seven of our favorites.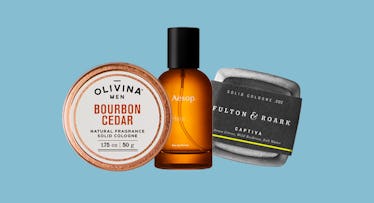 Your smell is your calling card, a unique expression of your personality. And much like your wardrobe or choice of cocktail, it should change with the seasons. That smokey, woods-y scents that defined you during the darker months should be replaced by one with notes that match summer's laid-back vibe. They still offer traditionally "masculine" bass notes; it's just that they're a bit crisper and brighter. So, if you're looking to expand your olfactory horizons, here are seven new scents to try.
The Art of Shaving Bergamot & Neroli Cologne
While it's from the facial hair aficionados at Art of Shaving, that doesn't mean this scent smells like aftershave balm. Instead, it's light and sweet. Picture yourself on a Mediterranean beach, inhaling a refreshing blend of citrus, sweet flowers, and fragrant bitter orange tree blossoms and you'll get the idea.
Olivina Men's Bourbon Cedar Solid Cologne
This all-natural fragrance is inspired by the wood-aging tradition of American distilleries. A blend of spicy red cedar and smoky vanilla, the masculine scent wins points for its solid composition housed in a convenient small tin that makes it easy to transport on weekend road trips.
Aesop Hwyl Cologne
Ever wonder what a Japanese forest smells like? Us neither, but if it smells like this (which apparently, it does), sign us up for the next plane to Kyoto. Accented with a hint of fresh thyme, the mossy, deeply earthy fragrance recalls nature in all its summertime glory. Minus the bug bites.
Azzaro Wanted by Night Eau de Parfum
Don't mind the over-the-top-ness of the bottle. Launched this spring, the fragrance is inspired by the hedonistic '70s lifestyle of Azzaro founder, Loris Azzaro. Woody and spicy with a splash of cinnamon and tobacco, it's your go-to scent for grown-up night out.
Fulton & Roark Captiva Cologne
What would it smell like if you washed up on a tiny island off southwest Florida? Maybe like a citrus grove, with a hint of freshly mowed grass. An undeniably summery scent, the solid cologne takes its name from an actual Floridian island. Because of its composition, the scent is more subtle than liquid versions, meaning you can put on as much (or little) as you want without fear of offending your fellow passengers on the elevator ride to work.
Guess 1981 Indigo Pour Homme
Children of the '80s (in spirit or actuality) will appreciate the bold approach of the new fragrance from, appropriately enough, America's favorite '80s denim brand. Roasted tonka beans form the base with subtly sweet floral highlights. Like catching a whiff of your garden while having a backyard BBQ.
Atkinsons 1799 Mint & Tonic Eau de Parfum
A crisp mix of crushed mint and citrus, this scent says summer so convincingly you barely need the sunny weather. It smells like the best damn mojito you'll ever drink.
This article was originally published on