6 Christmas Outfits to Keep the Whole Family Merry This Holiday
You already decorate your house and your tree. Why not decorate your family too?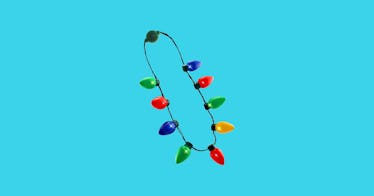 With elaborate lighting set-ups and trees sagging under the weight of ornaments and tinsel, Christmas decorations are suddenly everywhere. Why stop at the closet's edge? Dressing up for the holiday is fun for the whole family and gets kids — specifically young kids — in the mood to celebrate. And there's a lot of great Christmas apparel. From pajamas to slippers to shirts, there's something for every family and every aesthetic. Want to go Currier & Ives? No problem. Want to go goth? Again, no problem. The virtue of the annual bum rush towards holiday commerce is that you can buy good cheer right off the rack.
Here are the basics for families new to dressing up for the holidays. This is where you start before you go full ugly Christmas sweater.
Santa Hats
The quickest way to add some Christmas cheer to your outfits is with a Santa hat. This four-pack features a red velvet construction and soft plush detailing. Plus, you know they'll never go out of style.
Elf Matching Family Christmas T-Shirts
Matching t-shirts are great because they're comfortable enough to be worn around the house and, because they're not PJ's, you can also rock them at any function where embarrassing your kid is a priority. Choose from slogans for every member of the family, all available in five different colors and sizes for men, women, and kids.
Christmas Bulb Necklace
Brighten up your holiday pictures with matching Christmas light necklaces. These, also sold as a four-pack, come with nine multi-colored large bulbs that can stay lit or flash in one of five patterns. Two batteries come pre-installed in each necklace and the set comes with replacements so you don't have to worry about losing your holiday cheer due to some dead batteries.
Pottery Barn Kids Morgan Plaid Pajamas
For a classic Christmas look, you can't go wrong with red and white plaid. These PJ's from Pottery Barn are available in robe, nightgown, and pajama versions for kids as well as pajamas for adults. They're monogrammable and you can even get matching blankets and duvet covers if you need that extra custom touch.
Memory Foam Elf Slippers
The curled toes and red-and-green design of these house slippers make them perfect for wearing on Christmas morning. Just don't try to sneak around after your kids have gone to bed; the attached bells could jingle, wake them up, and cause some difficult questions about Santa you might not be ready to answer.
Dog Reindeer Costume
The most famous Christmas dog is probably the antler-adorned pooch who accompanied the Grinch around during his nefarious plot and subsequent Christmas conversion. Your dog can follow in his reindeer-imitating footsteps (paw prints?) with this costume. It will keep your dog warm and, with the attached antlers, extra festive for the holidays.
This article was originally published on