The 10 Best Charity Gifts to Get Your Loved Ones This Christmas
Why not give a present that also helps make the world a little better?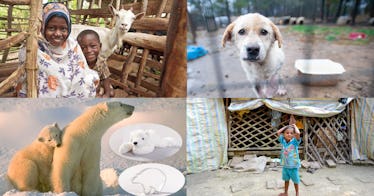 Clockwise from left: Heifer International; Humane Society of United States; Children International; Oceana
If you're fortunate enough to be able to afford Christmas gifts, consider giving a donation as a gift this year. After all, the past several years have been hard for so many people across the world. Instead of filling the space underneath a Christmas tree with toys and treats, consider a donation gift.
Your Christmas gift list doesn't have to be limited to charitable donations — some gifts will certainly be bought and wrapped up in a bow beneath the Christmas tree — but every donation helps, and charity gifts expand on the holiday's spirit of generosity while also demonstrating how well we know the people on our Christmas list, by supporting the causes they care about most. These charities make gifts that go further than what's under the tree.
There are plenty of great nonprofits that understand that charitable donations are often made around Christmas. As a result, they have made gifts to their organizations easy and fun. For example, adopting an aquatic friend from Oceana comes with animal-shaped cookie cutters, a personalized adoption note, and a stuffed toy resembling the adopted animal. In that vein, here are the 10 best charities that provide gifts for your giving.
Children International
Children International aims to end poverty across the world. In service of that goal, the organization has built 67 community centers that have medical offices, libraries, and playgrounds across the world, use data to track the progress of kids who come in contact with CI, and allow regular people to sponsor kids in need through monthly payments. CI is well known for using their money wisely, being extremely transparent about where their money goes and who it helps, and spending the vast majority of their money directly on who that money is aiming to help.
How to Gift: At Children International, donors can simply send along money to sponsor a kid every month or they can also choose to become their pen pal while sponsoring them. This is one of the best charity gifts for a kid looking to expand their horizons and make new friends. Sponsorships are around $36 a month, but the experience of having a pen pal can last forever.
Saratoga WarHorse
Saratoga WarHorse, based in Saratoga Springs, New York, matches veterans returning from combat with symptoms of Post Traumatic Stress (PTS) with horses — themselves off-track Thoroughbreds, many of which have experienced intense physical or emotional stress in their racing careers. Veterans care for the horses, building a bond with the intelligent and loving animals, and establishing trust that goes well beyond verbal communication.
How to Gift: Buy a wine stopper, a water bottle, or other small goods through Saratoga WarHorse and fund this necessary program that helps veterans get back on their feet. It's the perfect stocking stuffer that manages to also support a great cause.
Heifer International
Heifer International helps provide those across the world with the real supplies that they need in order to survive and ultimately thrive. Heifer's main goal is to give people a faster path to what they refer to as a "living income" — in other words, a life free from hunger, poverty, and homelessness. Heifer works with farmers and their communities, help women get work in small-scale farms that are sustainably built and harvested, helps provide food security by donating livestock and other animals to those across the world, and are extremely interested in investing in women's social mobility and capital.
How to Gift: Unlike other organizations on this list, donating to Heifer International won't come with a stuffed plush toy or a magazine subscription, or cool rock geodes. But just $750 could provide clean water for life for a family in need, $500 could give a family a heifer, just $120 would gift a family a sheep. Gifters can buy one of these animals and send a card to the person whose name they donated in or they can buy a gift card that allows the gifted person to donate whatever they'd like to the organization.
Give Blck
Give Blck, a resource that was created to "showcase the diversity of causes that Black-nonprofits organize around" is a great resource to look at for charities, nonprofits, and causes that you may want to support. The organization operates for givers mainly as a database that helps highlight around 200 causes and Black-founded charities that cover Civil Rights issues, LGBTQIA+ issues, environmental issues, criminal justice issues, gender equity, and more. The nonprofits are vetted by Give Blck and Charity Navigator and are a great place to give your money to organizations that are assured to spend it well.
How to Gift: Simply look at the categories of nonprofits the organization features and donate to one of them that fits your interests or the interests of your kids or loved ones. You can also subscribe to their newsletter to stay on top of causes that matter to you greatly.
UNICEF
UNICEF, also known as the United Nations Children's Fund, works in 190 different countries across the world to help the most vulnerable kids get access to clean water, education, safe housing, and more. UNICEF works to ensure kids can grow up freely; have access to life-saving vaccinations, immunizations, clean water and sanitation, and good nutrition; and attend school, be that in their daily life or if they are living through emergencies like becoming a refugee. The organization fights to promote gender equality for kids and releases plenty of reports on the state of kids in the world.
How to Gift: Unicef's gift shop has holiday ornaments (a $64.95 box can provide 178 sachets of oral rehydration salts that help children combat dehydration or diarrhea), an umbrella (provides 14 packets of life-saving nourishment for children suffering from malnutrition), and a super-cute toddler towel and mitt set (helps administer seven doses of measles vaccine to kids in need).
World Wildlife Fund
The World Wildlife Fund is obviously well known for its work in preserving species (especially endangered ones) across the world. Not only do they fight to put an end to illegal poaching, but they've also cracked down on the illegal wildlife trade and worked hand in hand with the people who live in the places where endangered animals live to help them understand how important animals are for their (and the world's) survival.
How to Gift: Through the WWF website, gifters can "adopt" a wild animal like a bonobo, an elephant, a polar bear, or a koala, among others, and get a stuffed animal, an adoption certificate, and an information kit about the animal they adopted. It's a sweet donation gift that goes a long way and can also be unwrapped by the Christmas tree.
Oceana
Oceana bills itself as the largest international advocacy nonprofit dedicated only to saving the world's oceans. Oceana, founded in 1999, has since protected 4.5 million square miles of previously unprotected oceans, helps endangered aquatic species, and is working to save these masses of water from global warming, plastic, and oil pollution.
How to Gift: For the ocean-obsessed, Oceana sells T-shirts, baseball caps, and other apparel, as well as a reusable straw kit that comes with a baggie, a straw cleaner, and two reusable straws. For those who would really like a stuffed animal, Oceana has "adoption gift packs." For example, adopting an Octopus costs about $80 and comes with an octopus cookie cutter, an octopus plush toy, and a personalized adoption certificate. There are many more types of aquatic animals that are adoptable: puffins, penguins, sea otters, sea turtles, clownfish, and more.
The Audubon Society
The Audubon Society, which has been around since 1905, is a nonprofit organization that protects the world's birds and their habitats. In their daily work, they protect the Arctic National Wildlife Refuge, help restore populations of the California Condor and the Brown Pelican, help push an environmental policy that couples green energy development with bird preservation, and help restore the Everglades and Long Island Sound. All in all, Audubon is serious about protecting birds. As such, donating or buying a gift through the Audubon Society for an in-kind donation is a great gift idea for an avid birder or a bird lover.
How to Gift: Gift givers can adopt a bird and get an e-card sent to the recipient of their choice, or they can buy sweet birder gear that goes towards the organization including Audubon-branded backpacks, binoculars, canteens, field journals, duffle bags, puzzles, and more.
National Geographic
National Geographic is not just a television channel or the long-time publishers of one of the best nature magazines in the world — the organization is also working hard to protect wildlife in the oceans, minimize the harm of plastic pollution all over the planet, and help save rhinos and other endangered animals from extinction, among other things. Alongside their top-notch environmental and global reporting, National Geographic runs a great television channel with nature documentaries that build awareness about the state of the planet.
How to Gift: National Geographic has a ton of gift guides for adults, spouses, and parents. The proceeds of those gifts go straight back to NatGeo. One super-cool present (especially for kids) includes 10 break-open geodes that can be smashed open with a hammer. The kit also comes with geode stands and a learning guide that can help kiddos learn much more about geodes.
Oxfam
Oxfam, founded in 1942, is a group of 19 different independent nonprofit organizations that aim to alleviate global poverty. Oxfam has many projects across the world, including in the United States, where they advocate against harmful legislative measures like welfare work requirements that would make poor Americans even poorer. Across the world, they work to fight global inequality as a means to lessen gender-based poverty and inequity, seeking out lasting solutions that reduce poverty over the long term. As such, Oxfam helps provide sustainable livelihoods, access to essential services, and basic social safety nets.
How to Gift: When you give to Oxfam, the organization provides direct assistance like packages of seeds, solar panels, toilets, built wells, survival kits in times of the environmental disaster, bicycles, chickens, child care, and more. If you give your loved one an Oxfam gift, you can pick out a card with a pun on it (the bicycle donation card reads: "Your Generosity is the Wheel Thing") and personalize it, as well.
The Humane Society of the United States
The Humane Society of the United States, established in 1954, is a national nonprofit that works to help push legislation aimed to better animal welfare, including ending cosmetics testing on animals, eliminating puppy mills for good, completely banning trophy hunting, ending animal fighting and pet homelessness, and fighting animal cruelty. Their fights are global and domestic: they've saved 13,000 animals through their adoption and care centers, vaccinated and spayed 100,000 animals, and rescued 260,000 animals from cruelty and poor living conditions. In 2018 alone they helped pass 204 state and local laws that protect animals trained 3,000 chefs in plant-based cooking and brought on 2,000 animal welfare professionals.
How to Gift: Just a $25 charitable donation will get the gift recipient a personalized card with a special message from the gifter and a yearlong subscription to All Animals, the Humane Society's member magazine. People interested in giving back to the Humane Society can also shop their corporate sponsors, which includes Rover, Moroccan Oil, and more, to give back to the organization.
This article was originally published on