The Only Baby Pajamas and One-Pieces Parents Should Buy
Save yourself a lot of headaches by sticking to pajamas and one-pieces that meet this criteria.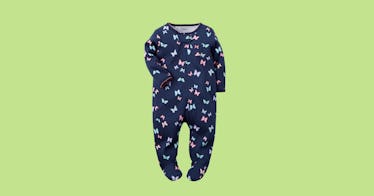 Baby pajamas and one-piece outfits are things you usually receive as gifts, whether you like it or not. How else are your kids going to let everyone know your dad is the "#1 Grandpa"? It's not the novelty messages that should bother you though. With lack of sleep and generally lowered standards for appearances, you'll soon not care about the design.
What will soon drive you batty, however, is the basic functional design of this essential piece of clothing. You'd think that there would be an agreed upon standard for an easy-access, comfortable, safe clothing for babies by now. Nope. From giant hand-sewn buttons to snaps placed in ways that it requires both parents to fasten to footies that have plastic spikes on the feet (huh?), baby clothing design is anything but standardized or rational.
It's not all this way. This father has found, through much aggravating trial an error, the kind of pajama and one-piece outfit that should be made the standard for all clothing (I'm planning on petitioning Congress): one-pieces that zip diagonally and have a single fastener on top. Those are the only kind of baby outfit for me. Why? A diagonal zipper moves from foot to chest so that is opens enough for easy entry and exit. And the snap on top importantly covers and holds the zipper so babies don't suck on it and it doesn't start to come undone. Another non-optional must is for this clothing to be flame retardant-free. That stuff is simply terrible for your kid and there are laws out there (well, in California at least) banning it. Covered feet are more optional: I avoid them because I live in a home with slippery hardwood floors.
So add another item to your registry and make sure you get a onesie that doesn't, well, suck. If it must say "I <3 My Aunt" at least make sure it's easy to put on. The sentiment on the shirt will then ring that much more true.
The Author's Favorite Pajamas: Carter's Snug Fit Footless Cotton Pajamas
They're cheap (they come in packs of three), easy, and check all the boxes. If you're buying them yourself, look no further.
The Best Pajamas for the Organic Parent
Milkbarn's organic cotton footless pajamas are nearly twice the price of most others, but hey, they're organic (and also have super cute patterns on them).
The Best Logo-Free One-Piece
Primary creates high-quality baby wear for those of you who are tired of the gendered design and cheesy logos. This one checks all the boxes.
The Best Outdoor One-Piece
The North Face Infant Campshire is a warm number from the outdoor brand that checks all the boxes: Diagonal zipper, footless bottom (easier to get boots on), and a hoodie with cute bear ears. Makes for a quick, cute dressing.
The Best "Going Out" One-Piece
The Lovely Dino Hoodie from Pat Pat is one chic (read, cute) piece of clothing.
This article was originally published on