The New Apple Watch SE is Already Marked Down
Your kid doesn't need a phone anymore. These have everything they need.
by Michael Frank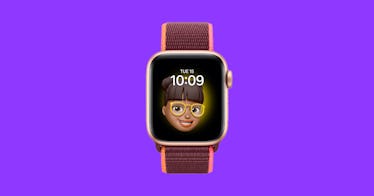 Apple, with its usual fanfare, announced the release of two new Apple Watches — the Series 6 and the more affordable SE — both of which run on the new watchOS 7. There were impressive features, as always: updated finishes and cool new bands, speedier recharges, water-resistance to 50m, always-on displays, fall detectors, and even blood-oxygen level monitors. While all that's cool, the much bigger deal for parents is the new feature that Apple's calling Family Setup. With it, for the first time, you can give your kid an Apple Watch and they won't need their own iPhone to pair it to. And right now, the Apple Watch SE is on sale, presumably as part of the lead-up to Black Friday.
Before this, Apple Watches were always designed as companions to a specific phone. The watch relayed all communication from phone to wrist, and you could answer using the watches' speakers and microphones. You could reply to texts there, too, using the screen or voice-to-text. Once Apple released Watches with their own SIMs, beginning with Series 4 a few years ago, you could ditch the phone and go for a jog and still have cell connectivity, but even then, all calls/texts got forwarded.
That's no good if you gave your kid an Apple Watch but not their own iPhone — they'd be getting your texts and calls on their wrist. Family Setup opens up a new possibility, because as long as your kid's Watch has its own SIM, they can text or call from their wrist, with no throughput to or from your phone.
Beyond just not needing to spend as much on a tandem of iPhone and Watch, there are lots of good reasons to get your kid a watch and not a phone. For one, you're giving them the connectivity of a cell phone, minus what they may not be ready for, like web surfing or un-restrained gaming.
You can also create a custom contact list on their Watch, protecting who's in touch and who's not, so your child won't hear from anyone you don't want them to. Naturally, they're going to be sure they can call/text friends, too, and you can enable all of that via a setup screen on your own iPhone. Mostly, you'd be doing this for the capability to be in communication with them, and for the security: In one motion on their wrist they can dial 911/ping an SOS contact you've pre-set.
In addition, every Apple Watch that's Series 4 or newer can detect a fall using gyroscopic sensors, and emits a loud alert to the wearer in case they do take a tumble. In that case, the screen shows a message that asks if they need the Watch to send an SOS. If there's no response within 60 seconds, the Watch dials 911 and key contacts — like you.
A handy aspect of the Family Setup is a family-friendly version of what Apple already enables with their phones: location tracking. This lets you see where family members are at any given time, which is useful even in non-emergency situations, such as where the heck everyone's off to when it's time for dinner.
Apple's also added a wallet function that allows you to issue an allowance to your kid via Apple Pay on your phone, so they can buy stuff using the contact-less function directly from their wrist — and you'd get a notification whenever they do so.
And a new mode called Schooltime has been added to the software, too — especially nice to have in the Covid era. You pre-set certain hours for school or home study (you can do this on your own phone), and your child's Watch screen changes to a school-bus-yellow ring, while texting and other distractions are disabled. And there are also screen time restrictions parents can input, so that your child isn't allowed to communicate after hours, for example.
Naturally, as with all tech, there are downsides. How much helicoptering is too much? With the internet, generally speaking, there's no such thing as too much. And Family Setup might be that perfect compromise between freedom and supervision. Your kid still gets to explore their own digital world — you're just beside them while they're doing it.
Every product on Fatherly is independently selected by our editors, writers, and experts. If you click a link on our site and buy something, we may earn an affiliate commission.
This article was originally published on