The Giggling, Blinking Baby Yoda Toy of Your Dreams is (Almost) Available
It doubles as a sleep-training toy.
by Donna Freydkin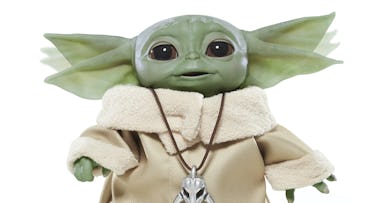 Credit: Hasbro/LPR
The best and most realistically cute Baby Yoda toy is here. This is The Child you're looking for. Next time you sip some savory warm bone broth, you can do so in the beguiling company of the animatronic Baby Yoda toy that Disney and Hasbro are finally, finally, releasing on the heels of the phenomenon known as the Disney+ hit series, The Mandalorian. This Baby Yoda blinks and giggles and babbles and sleeps and is all things cute and delicious and the Force is for sure with him. This is the best of the baby Yoda toys announced thus far because it does what everyone wants. It moves its hands! It blinks! It coos! Because of course it does.
We got a demo of the Baby Yoda toy at Toy Fair, which is where distributors big and small showcase all their merch. And of all the piles of toys we saw, this, for sure, was one of the standouts. It's meant for kids 4 and up (but seriously, it's meant for you, the parents).
When Baby Yoda aka The Child is not doing cute and charming things like wiggling his ears or waving his hand to use force power, he naps. A lot. In fact, after using his force powers, The Child gets so tuckered out that he falls asleep. When you lay the toy down, it will also close its eyes and catch some Zzzs.
A style icon, he is also. After all, the toy includes a removable Mandalorian pendant necklace humans can wear themselves. In all, the animatronic Baby Yoda has 25 sound and motion combinations, which are activated when you touch his head. Of course, all good things come to those who wait and in this case, wait we must for the Child to be available for pre-order. Keep checking back.
Every product on Fatherly is independently selected by our editors, writers, and experts. If you click a link on our site and buy something, we may earn an affiliate commission.
This article was originally published on