Holiday Gifts: 19 Epic Playsets to Buy Your Kids This Holiday
From Ancient Egyptian pyramid playsets and Thomas the Tank Engine mega stations to space command centers and Star Wars Destroyers.
by Brendan Charles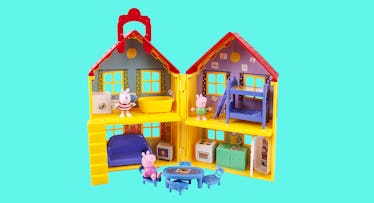 When it comes to playing with dolls and action figures, kids get pretty far with their imaginations. But occasionally they need something that will jumpstart their world building. Enter the kids playset: these colosseums of creative play are perfect for providing your kids with inspiration. From Ancient Egyptian pyramids and Thomas the Tank Engine mega stations to space command centers and Star Wars Destroyers playsets, these kids playsets are not only ridiculously well constructed (and fun), but they also offer entrances into imaginary worlds in which kids can spend all day playing around. In short, they'll make epic holiday gifts. Oh, one note: you will step on the pieces. So be prepared. It's a small price to pay for holiday joy.
Sago Mini Jinja's House Playset
So colorful and cute, this kids playset looks like it could be the scale model of a Wes Anderson set. Folded out, Jinja's House reveals full rooms to explore, including a bunk bed reached by a ladder and a tongue-like backyard slide. It comes with two characters and an array of plastic toys useful for tea parties and fake conversation. When playtime is over, the set folds into a carrying case complete with a handle.
Playmobil Pharaoh's Pyramid
Hidden treasure, traps, snakes, and a mummy: this kids playset has it all. Playmobil's pyramid set also comes with three characters your mini archaeologists can use to explore the ruin. Just make sure they check the tombs for traps — you don't want to unleash an ancient curse on your home.
Hexbug Battlebots Arena Pro
Amazingly, Hexbug made a toy that incorporates the design, engineering, mayhem, and destruction that makes Battlebots so fun to watch into a toy. The Arena Pro comes with a cardboard battling area, complete with walls and hand-operated hammers, that serves as the setting for epic battles between two palm-sized, customizable robots. Kids can choose from different kinds of wheels, weapons, and armor, so there's a chance for them to strategize the best way to attack their opponent and survive the match. It's one of the best toys of the year, an easy and fun way to bring robot-battling action from the TV in your living room to your actual living room, and it will even appeal to the preteen crowd.
Ben 10 Alien Force Creation Chamber
This awesome playset lets kids mix and match different alien body parts. Once they've picked out their preferred head, torso, legs, and arms, all inspired by characters on the Cartoon Network animated series, they can combine the parts inside the chamber by turning it and launch their new creation out, ready for battle. The set comes with four figures to mix and match, but don't be surprised if your kids want to pick up extra figures to make even more custom aliens.
Hot Wheels Super Ultimate Garage
This twisting, turning, towering Hot Wheels set has six levels and enough storage space for 140 vehicles. There's a jet plane that carries two cars up to the top and, before you ask… yes it does have a giant red-and-blue gorilla that hurls some cars from the elevator. Mattel even built-in connections for tracks at the bottom, so you can link up other Hot Wheels sets and really take over the living room.
WonderHood Grand Hotel
This modular kids playset by Wonderhood allows your child to construct their own hotel using the included panels, building up rooms around the central elevator. It comes with two characters that can wade in the pool, sip hot cocoa in the cafe, or play in the kids area. With a ton of different configurations, your kids are sure to get a good amount of playtime out of this one and they'll learn about geometry and architecture while they're at it.
Oyo End Zone Set
Any little football fan will enjoy kicking field goal after field goal with this buildable set. Since the blocks are completely LEGO compatible, if your kid gets bored with the Falcons, Darth Vader can step in and have a go. When the game is over, the players can even hit the showers in this matching locker room.
Lego Star Wars Kessel Run Millennium Falcon
This Solo-inspired set is 1,414 pieces of pure building goodness. When assembled, this 18-inch version of the Millennium Falcon has a bunch of clever design elements. The hull plates open to reveal the cargo area, the laser turrets fire translucent spring-loaded blasters, and the escape pod detaches. It comes with seven minifigures, including Han, Chewbacca, and Lando Calrissian.
LEGO Apollo Saturn V Rocket
Based on the first rocket to put astronauts on the moon, the 1,969-piece Saturn V (a hat tip to the year of the moon landing) stands more than three feet tall and is LEGO's largest toy to date. Like the real thing, it comes in three sections ⏤ one for each rocket stage of the mission ⏤ and can be displayed either horizontally on the fireplace mantle or standing ready to launch in the middle of the living room.
Barbie DreamHouse
This classic playset was due for a refresh, and Mattel delivered with this year's version. At over three feet tall and four feet wide, this spacious house fits eight rooms, three stories, and a built-in slide, because why not? Kids will find details like light and sound effects, a working elevator, a couch that converts to bunk beds, and more than 60 accessories. The Barbie DreamHouse isn't just one of the best playsets you can buy; it's one of the best toys of the year.
Playmobil Ghostbusters
Out of all the cars in the history of film, few hold a candle to the Ecto-1 from Ghostbusters. Playmobil manages to capture the magic of this vehicle in toy form, with functioning lights and that iconic siren. The car alone is fantastic, but the set also includes Winston and Janine mini figures complete with proton packs and a ghost trap. Just make sure your kids don't cross the streams.
Thomas & Friends Super Station
Have some Thomas-obsessed kids? This Super Station should sate 'em. The ludicrous locomotive set comes with three different levels, four different sized trains, and is compatible with them all. Your kids can visit all of the classic landmarks from Thomas the Train, and play with the giant crane and full sized track at the bottom. But let's face it, the thing they will love most is the two giant ramps for the trains to zoom down.
Nano Metalfigs Nanoscene Batcave
With Justice League finally in theaters, DC toys are reaching new levels of popularity. Few are as immersive as this Batcave playset, which comes with metal figurines of the Dark Knight and Robin, as well as plenty of entertainment to keep them busy. Inside the bat cave is a Bat Computer, a working elevator (what no batpole?), garage door, and even a light-up bat-floor. Just keep in mind that this batcave is made for mini figurines, not full sized action figures. Well, unless your kids want to start some storylines involving enormous threats.
Playskool Heroes Marvel Super Hero Adventures Iron Man Headquarters
This is one of the best toys for younger Marvel fans, as the included Iron Man and Hulk figurines are designed to fit nicely in smaller hands. Kids play with those beloved characters in a 28-inch tall Iron Man-shaped home base, complete with working lights, an adjustable ramp that launches Iron Man on his motorcycle, and trap doors to ensnare enemies in Hulk's gamma chamber and Spider-Man's web. And if your kid wants the rest of the Avengers, those figurines are available for purchase separately.
Fingerlings Monkey Bars
Kids can have their super popular electronic monkey toys can burp and fart their way through three different obstacles on this specially-designed playground. There's a ladder to climb, a swing with a cut-out for their tails to sit in, and, of course, monkey bars to swing upside down on. As a bonus, this set comes with one or two exclusive Fingerlings, depending on which version you buy, so your kids can grow their collection while gaining a brand-new way to play.
Paw Patrol My Size Lookout Tower
At almost three feet tall, this Paw Patrol tower serves as the home base for the do-gooding canines your kids know and love. There's an elevator that takes the pups to the top of the tower, where a periscope lets them monitor Adventure Bay, and a ramp that curves around the tower and lets them spring into action when there's an emergency they can take care of. With one racer and two dogs included, kids can have plenty of fun with this playset out of the box, but it's even more fun if they can fill the tower with the whole Paw Patrol gang.
Peppa Pig Deluxe House
Peppaheads, the name we just made up for kids who love Peppa Pig, will love this dollhouse. It comes with three figures and 15 different household items for kids to play with in the four different rooms that make up the interior of the house. The hinged design makes it easy to store all those pieces and carry the set after kids have moved on, possibly to another Peppa episode or another Peppa toy.
Rise of The Teenage Mutant Ninja Turtles Epic Sewer Lair
The word "epic" is right in the name of one of our favorite toys of the year because there's no better word to describe its 43-inch tall, four-level construction. Kids can play with Splinter and the Turtles in seven different rooms, places like Splinter's dojo and Donnie's lab, that come equipped with over 20 features. Some of our favorites: the adjustable skateboard ramp the turtles can race down, the workout bench launcher in Ralph's room, and the slide escape from Mikey's room. With so many nooks and crannies, there's tons for kids to explore.
Brio Smart Engine Set with Action Tunnels
Brio makes some of the best toy trains on the market, and this moderately higher-tech version does a great job of augmenting an already beloved play experience. With only 17 pieces, this set isn't too complicated for young kids to play with. While the train travels around the track, its sensors interact with the various included bridges and tunnels, objects that cause the train to react accordingly by stopping, blinking its lights, or tooting its horn. Brio avoided adding a bunch of unnecessary nonsense, and we love that the tech doesn't get in the way of a classic good time with toy trains.
This article was originally published on