How To Watch The Live Yellowstone July 4 Marathon ASAP
Watch a TV marathon, the old-school way.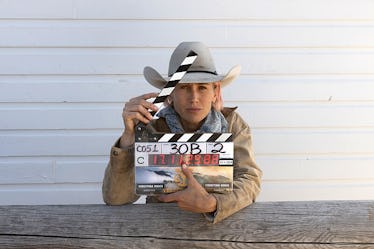 Paramount
The very first of all the Yellowstone shows will mosey on into the sunset in November 2023, with millions of fans anxiously waiting to see how co-creator Taylor Sheridan brings the second half of Season 5 to a close — and how he does so with the limited participation of series star Kevin Costner. But, before that happens, this July 4th, Yellowstone is wrapping up a massive marathon, on live TV, just like the old days. If you're looking to watch a nice, old-fashioned TV marathon where you have no control over when the episodes stop and start, you can still catch family intrigue, romance, the glorious vistas of rural Montana, and, some damn good parenting advice.
Here's how to watch the Yellowstone 4th of July Weekend Marathon on Live TV, while you still can.
How to watch the Yellowstone July 4 marathon
The marathon kick-offed on Friday at 8 pm PT/ET, then continued on Saturday and Sunday at 11 am PT/ET, but finishes on Tuesday, starting at 12pm PT/ET.
To be clear, you can't stream this marathon, you have to watch it, on cable TV on the Paramount Network. The Paramount Network is not the same thing as Paramount+. Instead, the Paramount Network is a channel, which you can access through your local provider. You can also watch the Paramount Network streaming with cable-streaming services like Sling or Philo.
For those just getting in on the action, Paramount Network's official synopsis reads as follows: Yellowstone chronicles the Dutton family, led by John Dutton (Kevin Costner), who controls the largest contiguous cattle ranch in the United States. Amid shifting alliances, unsolved murders, open wounds, and hard-earned respect – the ranch is in constant conflict with those it borders – an expanding town, an Indian reservation, and America's first national park.
Where to stream Yellowstone
So, how do you watch all of Yellowstone when there's not a marathon? Here are your Yellowstone streaming options.
Yellowstone airs on Paramount Network and all five seasons are available there.
Confusingly, you cannot stream Yellowstone on Paramount+. Instead, Seasons 1-4 of Yellowstone are streaming on Peacock, with Season 5 likely soon to follow. Other Yellowstone streaming options, for a fee, include iTunes, Vudu, and Amazon Prime Video.
Meanwhile, the Yellowstone prequel shows 1883 and 1923 are both streaming on Paramount+. Currently, 1883 is also airing on the Paramount Network.
Here's Fatherly's guide to watching the whole Yellowstone saga in order.