How To Legally Watch The World Cup Quarterfinals For Free
Each option has its pros and cons, depending on your priorities. (And one surprising option is totally free!)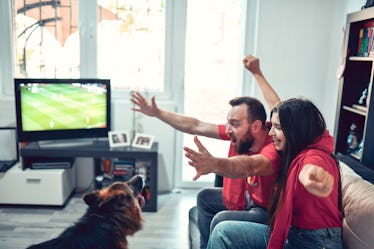 AleksandarGeorgiev/E+/Getty Images
The World Cup is the most-watched sporting event on the planet, and an already exciting tournament will now burn white hot with only eight teams left. Will Messi add the one line missing from his resume by delivering Argentina the cup? Can Morocco continue to ride their underdog momentum for at least another match? We don't yet know how it'll play out, but we will be watching. So, where can you watch the 2022 World Cup Quarterfinals? Is the World Cup streaming for free?
Fortunately, there are some free and inexpensive options for getting your soccer (football) fix, assuming you know where to look. Each option has its pros and cons, depending on your priorities.
Watch live World Cup games for free over the air on Fox or Telemundo
Local Fox affiliates will carry English broadcasts for the World Cup Quarterfinals. To watch for free, you only need an antenna that allows you to pick up the Fox station in your area.
Viewers within range of a Telemundo station will be able to catch Spanish broadcasts free over the air. Yes, this means watching the games in Spanish, but that's almost better right?
Watch World Cup Quarterfinal Games on demand for free on Tubi
Two of the World Cup quarterfinal games take place during work hours on a Friday, and the other two are during the day on Saturday when you very well may be watching your child's own athletic endeavors. Fortunately, the free ad-supported streaming service Tubi will offer full replays of all matches in 4k. Games will be available 30 minutes after each match ends, and Tubi can ping users who would like a heads-up the moment matches appear on the service.
While Tubi requires a free account to use the service, it does not require users to submit a credit card number.
Watch World Cup Quarterfinal games by surfing free trials of Youtube TV, Fubo TV, and DirecTV Stream
Streaming services have cut back on free trial offers lately, but it's possible to pick up new subscriber offers to avail yourself to live and on-demand streaming with full DVR functionality for all World Cup matches.
The downside to surfing free trials is that it can be a pain to sign up for — and then cancel — multiple services in a short period of time. And if you forget to cancel in time, you're on the hook for at least one month at the current rate, which for these services is in excess of $50.
*14-Day YouTube TV Free Trial (New Members)
*7-Day FuboTV Free Trial (New Members)
*5-Day DirecTV Stream Free Trial (New Members)
Watch every World Cup game live and on-demand for $5 with Peacock
Because Telemundo is part of the NBC/Universal conglomerate, Spanish-language broadcasts of all World Cup matches will be available to stream on Peacock. At only $5/month, Peacock is an inexpensive World Cup streaming option that offers maximum flexibility for little effort. And since World Cup matches wrap up relatively early in the day, there will be plenty of time to stream episodes of Peacock's other popular offerings, such as The Office and Yellowstone.
Watch every World Cup game live and on-demand for $20 with Sling
For those who want a more traditional World Cup television experience, Sling is offering new subscribers a 50% discount for their first month of service. That brings the total for Sling Blue down to a very reasonable $20 for the duration of the tournament.
Stream the world cup on Sling Blue for $20
This article was originally published on