Are You Mad at the U.S. Women's Soccer Team? If So, You're an Asshole
I coach my son's soccer team. Would I tell them not to be proud? NOPE!
by Donna Freydkin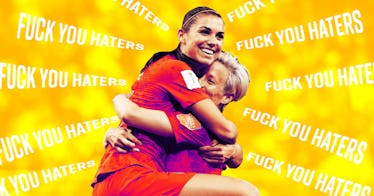 GETTY
The U.S. women's national soccer team is guilty of one thing and one thing only: Being fucking good at soccer, at the biggest tournament on the planet. And if you're among those who are upset about that, you're an asshole. Here's why.
In their opener at the women's World Cup, held in France on Tuesday, the American team bested Thailand 13-0. This led not to joy, or pride, or flag-waving. No, folks. Instead, the mad-talented team was openly criticized for scoring too much and celebrating too hard. Apparently, some people think it's bad manners to be great at your job and to be proud of it, too. But, this kind of thinking is nuts and bad for all genders.
For those who are hand-wringing about Alex Morgan's five goals, and her audacity at celebrating each one like it was her first: Fuck you! People who accuse the team of running up the score: Fuck you! And those who lambast the women for daring to continue blasting balls into the net when their victory was more apparent than Trump's ethical fouls: Fuck you some more.
If teams want the U.S. women to stop scoring, then stop them from scoring. If you want them to stop celebrating, stop giving them something to celebrate.
I co-coach my son's fall soccer team. And other parents laugh at me, but I tell the kids that fun, good times, camaraderie, sportsmanship, all are well and good. But they're there for one reason: To get that ball in the net. The more often, the better! My son's team won their last game 12-1. Did I feel bad for the goalie of the other team who was sobbing? Sure. But, did I tell my team to reign things in, maybe dumb down their game, flub a few passes? Fuck no. Because they put their hearts and souls and feet into this game, and they were going to own that win.
Thailand had 11 players on the field. The coach could have put all 11 in the goalie box. Instead, they continued attacking, with all the skill, grace, and fervor of a napping cat. That's not to say Thailand didn't try. Of course, the team tried. But they were outpaced at every level by the best team in the world. Do you know what they call it? Wait for it. Competition. Thailand was at the World Cup. They qualified for the World Cup, same as everyone else, and knew what was expected of them. And in their case, unfortunately, that meant facing the best women's soccer team on earth.
Bear in mind that this is the same women's soccer team that had to sue for equal pay, and currently, on which the players earn 38 cents for every dollar paid to their male counterparts; Who didn't even qualify for the 2018 World Cup, which France won.
Leave it two-time Olympic gold medalist and FIFA Women's World Cup champion Abby Wambach to most concisely and tidily sum things up:
Imagine, for a moment, telling Tiger Woods to just take a beat, and maybe hug second place Masters finisher Xander Schauffele, because losing hurts. Or wait. How's about that little upstart Tom Brady, who, after helping the New England Patriots win yet another Super Bowl 13-3, maybe instead of basking in his achievement, he should have had a cup of organic decaf chamomile tea with Rams QB Jared Goff.
As Wambach said, it would never happen. Because dudes are conditioned to win. And boys are praised for their goals, their touchdowns, their home runs, their aces. Girls, on the other hand, have to be tough without being too audacious; ambitious without being shrill; brave, of course, but never too brash about it. And because girls and women must be dainty and refined, screaming and shrieking over your fifth goal is just, well, unseemly and gauche.
USA TODAY actually posted the following story, which contained the kind of gem that makes me want to punch someone:
"The United States Women's National team trounced Thailand 13-0 in its 2019 FIFA Women's World Cup opener on Tuesday, causing many to question the sportsmanship of the U.S. for running up the score."
The New York Post chimed in as well: "Perhaps the harshest criticism of the US came from Canadian analysts on TSN's World Cup show. Former World Cup players Clare Rustad, Kaylyn Kyle and Diana Matheson called the Americans' celebrations 'disrespectful' and 'disgraceful.' They especially took aim at Rapinoe and Morgan for what they called "classless behavior."
Excuse me, but what? Last I checked, at the World Cup, a team's job was to score goals. And to keep scoring. When Germany routed Brazil 7-1, in a 2014 match that was clinically brutal to watch, no one expected Thomas Müller, Miroslav Klose, Sami Khedira, and Toni Kroos to atone for their victory. They did their job. And then some, going on to win the entire damn thing.
Do you know what's classless behavior? Fake humility. It's feigning humbleness, and being apologetic just to spare someone's feelings, which is roughly a thousand times more insulting than exulting in your dazzling display of nutmegging and dribbling. As for disgraceful, it's sending the message that women, and girls, should hold their exuberance and joy inside instead of letting it rip. Sort of like Antoine Griezmann did when France took home the trophy and he marked each goal with a Fortnite dance. You know, his signature L is for loser shimmy.
When I played soccer in high school in Germany, our coach instilled in us that we'd train as hard as the boys' team, if not harder. That we'd never give up goals. Or be nice, for the sake of being nice, because that was expected of women. You want nice? Go to an etiquette class or have high tea at the Plaza. If you want to win the World Cup, you beat the shit out of your opponents.
Meanwhile, all this has a very non-shitty flip side. For once, the women's soccer team is getting the attention it so rightfully deserves, and dudes who had no intention of watching the World Cup are texting me to ask when they're playing next. To quote one iconic singer you may have heard of: "You know you that bitch when you cause all this conversation. Always stay gracious, the best revenge is your paper."
Now, U.S. soccer ladies, you go and win this thing. And maybe a boost in your greenback papers is next.
This article was originally published on