The Most Recognizable Soundtracks Of All Time Will Shock You
Which movie soundtracks do we recognize the most? Our brains are playing tricks on us...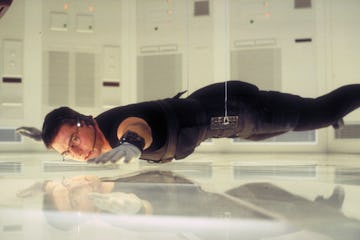 Murray Close/Moviepix/Getty Images
While we might not think about it a lot, the music in our movies makes a big difference. The Rocky movie would not be the same without "Eye of the Tiger," and Toy Story would have a different vibe if it weren't for "You've Got a Friend in Me," and listening to the movie soundtracks is second best to actually watching the movie. But have you ever wondered which movie soundtrack was the most recognizable? There's a list — and there are some surprises.
GetCenturyLink, one of the largest online authorized sales agents of CenturyLink, wanted to find out which film's soundtrack holds strong in our memory. "Do viewers recognize movie soundtracks once the credits roll?" they asked.
To find their answer, GetCenturyLink "asked 500 people if they recognized some of the greatest film theme songs in Hollywood history, and more fell through the cracks than we expected."
To do this, GetCenturyLink compiled a list of 10 famous soundtrack songs, and the people in the survey were asked to listen and state if they recognized the song or not. They sorted through the data and compiled a ranking of the ten soundtracks based on how many respondents recognized the songs or not. And there were a few interesting findings. Keep in mind this is only based on five hundred people, so take the results with a grain of salt.
The top two songs that rank as the most recognizable aren't really surprising, with Lion King's "Circle of Life" taking the top spot, with 86% of listeners able to recognize the song and movie. That was followed closely by Titanic's iconic song, "My Heart Will Go On," which 84% of listeners could identify.
Rounding out the top three is a tie between "He's a Pirate," from the first installment of Pirates of the Caribbean, and "(I've Had) The Time of My Life" from Dirty Dancing. Seventy-seven percent of listeners could identify these songs, which is a pretty steep drop from the songs in the first two spots.
At the bottom of the list were songs from Jurassic Park and Harry Potter and the Sorcerer's Stone which only had 50% and 56%, respectively, identifying where the songs came from.
Here are the most recognizable soundtracks of all time:
The Lion King
Titanic
Pirates of the Caribbean: Curse of the Black Pearl
Dirty Dancing
Star Wars: Episode IV - A New Hope
Mission: Impossible
Indiana Jones: Raiders of the Lost Ark
James Bond: Dr. No
Harry Potter and the Sorcerer's Stone
Jurassic Park
To see more of the report, check out GetCenturyLink.