45 Years Later, One Harrowing Kids Movie Has FINALLY Switched From G To PG
The movie was — and still is — terrifying.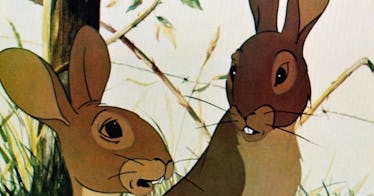 Warner Bros. Animation
Is there a movie you watched when you were a child that still haunts you today? For many people, that movie is a feature cartoon meant for kids that features a group of bunnies. It sounds innocent enough, and its movie rating of "U" means universal, so it should be appropriate for all ages. However, it was anything but. The movie was — and still is — terrifying, and the new development is that 45 years later, it's been re-categorized as "PG," but that might not be strong enough.
According to The Guardian, when the British Board of Film Classification (BBFC) revisits movie ratings for older movies, they tend to lower the rating, realizing that today it's not as extreme as it was in the past. "The Alien movies were once rated 18; now they're 15," the publication points out. But, there's a kid's movie that took the opposite direction — 45 years later, it's been given a more strict movie categorization.
"The 1978 animated version of Watership Down — the much-loved wild rabbit adventure — from U to PG (Parental Guidance) is a remarkable example of the censoring authority becoming more puritanical over time," the publication adds.
Looking beyond the cute bunnies and into the description of the movie, it's a lot darker than it appears. "Hoping to escape destruction by human developers and save their community, a colony of rabbits, led by Hazel and Fiver, seek out a safe place to set up a new warren," the movie description reads. And this destruction path isn't cutesy like a Disney movie.
Reading audience reviews of the movie on Rotten Tomatoes, you get a feel for why this movie was re-categorized so many years later if you didn't watch it when you were younger. One review pointed out that "sixty-three" bunnies meet their maker in the film, and that "it's not ok" to for this to happen in a kids' movie.
"Traumatized me as a kid," someone else wrote.
A third review said this movie is "a dark, haunting Animated film that will probably give your kids nightmares." But, if you take the movie out of the context that it's for kids, "it's bold and refreshing to get a cartoon film with bunnies as protagonists, that's this harsh and realistic; not relying on Disneyfying it for cheap laughs or sentiment."
However, overall, the 1978 animated movie received good reviews, landing at a 79% Tomatometer and an 86% audience score. But there were scenes in the movie, with its dark plotline, that the BBFC decided needed to be reevaluated "under the current guidelines."
"Whenever a distributor resubmits a film with an existing BBFC rating to us, we review it under our current guidelines," the BBFC told BBC. "This sometimes means we may reclassify the film at either a higher rating or a lower rating than it was under previous guidelines."
The decision referenced in the agency's decision included a "distressing sequence" in the movie. "In their exile, the rabbits meet various challenges, some of which result in bloody bite and claw injuries caused by animals fighting," the publication notes. "In one scene, a bird tells one of the rabbits to '[pee] off'."
Ultimately, the decision was made to reclassify the movie as PG "in line with our current policies," which includes, among other things, "threat, injury detail, and language," the agency added.
Watership Down is streaming on Max.