30 Years Ago, One Sitcom Dad Had To Choose Between His Beer And His Family
Why "Duffless" was a small triumph for The Simpsons.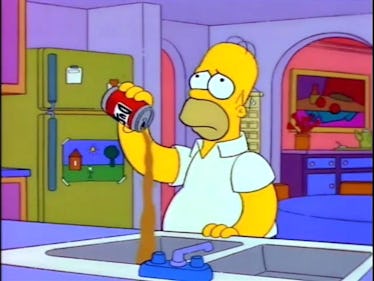 Fox
What would happen if Homer Simpson stopped guzzling beer? This was the selling point of "Duffless," a The Simpsons episode that dropped on February 18, 1993. It was the 16th episode of the show's fourth season, and while fans might not consider it a true classic, like its immediate successor, "Last Exit to Springfield," this moment remains a seminal episode today, even if it couldn't be made now. Here's how this controversial Simpsons episode made a big impact, and what it still has to say to dads everywhere.
"Duffless" centers on Homer, who is pulled over for a DUI after visiting the Duff Brewery. It goes without saying that Homer has always been an alcoholic. He loves his family, but it requires more than a few Duff beers to get him through the drudgery of a day. Donuts just don't dull the edge. Marge challenges him not to drink for a month, and the experience makes Homer realize how boring life can be at times, even his beloved baseball, and especially a Tupperware party. We see Homer at a traffic school and an A.A. meeting. It makes one wonder, "How many times has Homer driven drunk before? Has he done so with his kids in the car?" What's on-screen and what's implied is all serious stuff for a funny show, especially one that, in Homer as a character, normalizes alcoholism. At one point, Homer says, "I would kill everyone in this room for a drop of sweet beer." He means it.
Of course, Homer's break from booze – which also resulted in him losing weight, sweating less while eating, and saving money -- was all temporary. He mostly went back to his old ways a week later. Still, The Simpsons deserves credit for at least addressing the elephant in the room. The show later went far deeper into the subject years later when Barney stopped drinking in "Days of Wine and D'oh'ses" written by Homer voice actor Dan Castellaneta and his wife, Deb Lacusta.
"Duffless" is also very funny. If one accepts the basic premise of the episode, there are laughs aplenty – and they still hold up. During Homer's visits to the Duff Brewery, for example, he watches old Duff commercials and sponsorship clips. In one, Richard Nixon and John F. Kennedy pause their debate to praise Duff Beer. Homer, livid, says, "The man never drank a Duff in his life." And there's no sweeter moment than the very end of the episode when Marge and a sober Homer ride a pink bicycle into the sunset, duet-ing to "Raindrops Keep Falling on My Head." In between, in an amusing B-story, Bart ruins Lisa's school science project and she tries to exact some revenge, with unexpected results.
But, what's a Simpsons episode without loads of nods to popular shows, movies, and celebrities? Aside from the aforementioned Kennedy and Nixon, the Stanley Kubrick film classic A Clockwork Orange gets the tribute treatment in such a manner that it's a miracle that network censors didn't force it to be cut. Bart reaches for a pair of cupcakes in precisely the same way the film's antihero, Alex, reaches for a woman's breasts. Fortunately, any young kids watching the episode likely won't grasp, so to speak, what's happening. We also get an in-joke referencing Herman's Head, a Fox show that starred Simpsons regulars Yeardley Smith and Hank Azaria, plus riffs on the James Bond villain Blofeld, Reefer Madness, The Fly, Bewitched, the Three Stooges, and, of course, Butch Cassidy and the Sundance Kid. Oh, and the band Queen is name-dropped, too!
If you're looking for a Simpsons episode that is better than you remember and has something interesting to say, "Duffless" is worth another watch and may make you think twice about how often you have a drink in your hand.
"Duffless," along with every episode of The Simpsons, is streaming on Disney+.