33 Years Ago, A Movie About Mutant Turtles Captured Teenage Angst Like No Other
Teenage Mutant Ninja Turtles is a perfect film about raising teenagers.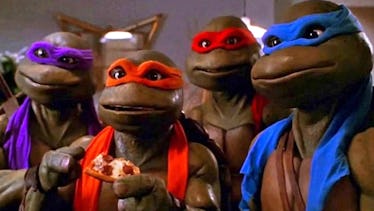 New Line Cinema
Thirty-three years ago, on March 30, 1990, one movie captured the beauty of fatherhood like no other. That's right, the first live-action Teenage Mutant Ninja Turtles film is a moving and surprisingly realistic depiction of parenting. But how does a movie about radioactive turtles accomplish such nuances? Let's take a look and see if we can find the secret in that ooze!
The core of Teenage Mutant Ninja Turtles isn't martial arts action. The story is about parenting teenagers. It's literally in the title! The movie is filled with examples of good fathers, bad fathers, and fathers who just don't know what to do with their teens. Kids becoming teenagers is a big deal, and TMNT demonstrates the right and wrong way to be present as kids take those steps from childhood to maturity.
There are some great fictional dads in pop culture — like Bandit from Bluey or T'Challa from Black Panther — but Splinter is criminally underrated. It's not just that he's a single father raising four pubescent reptiles, he also does it while existing as a human-sized rat. Yes, various martial arts masters sometimes seem like father figures in similar stories. But Splinter is closer to being literally their dad. Splinter parents through compassion and he instills in his children with serious values while also making sure they've got enough pizza.
Upon rewatching this film, what will impress you the most about Splinter — beyond his Saint-like patience — is how he lets his children be who they are. Each has a distinct personality, even if those traits cause conflict with the others. Splinter goes with the flow and accepts them, imperfections and all. He understands his sons speak different languages when it comes to learning about life and prepares them for adulthood in their own unique methods.
On the other end of the spectrum, Shredder is a prime example of a toxic parent. Unconditional love is not in the vocabulary of the Foot Clan. His affection towards his surrogate children is based solely on what they can do for him. Somewhere in the middle of these polar opposites are Charles and his son, Danny. Straight-laced Charles struggles to communicate and connect with his son, clad in a Sid Vicious t-shirt with his head buried in headphones (a familiar sight for many parents). The relationship between this pair is at a crossroads. And, because Danny has joined the Foot unbeknownst to his clueless but well-meaning father, it's all a classic case of rebellion and acting out, except this version includes sword-fighting.
Danny spends time with the ninja father figures as the story unfolds, and discovers truths about what good parents can do. Splinter is compassionate, listening to Danny and talking to him, not at him. Shredder is a parent of fear and order — his order. Splinter knows his kids will discover who they are on their terms, even if they're wholly different from him and how he grew up. Shredder molds and manipulates them, testing their familial loyalty by pitting them against each other to be his "favorite child". Failure is not an option for the Foot. For the Turtles, mistakes are teachable moments to help them grow and learn.
By the end, the teenage Foot Clan falls apart when they see Shred-head's toxicity for what it is. Danny runs towards the arms of his own father, both knowing they have a tough road ahead of them, but it's one they can work on together. Just like learning a martial art, it takes time and patience to build trust and a bond. When a child becomes a teenager, it's like starting the connection process from scratch. Your teens won't make it easy on you to figure out your new relationship, but as they seek their independence, they will always want to know you've got their back- even if it's from a distance.
Every child has exclusive needs that even they're unaware of, so instead of being a Shredder and insisting you know what's best, be a Splinter and give kids the tools they need. Trust them to make good decisions, because as a father, you've given them your life experiences and lessons. Now it's time for them to make the big decisions, and kick some shell. Cowabunga!
Teenage Mutant Ninja Turtles (1990) is available for streaming or purchase on Amazon.