From The Black Eyed Peas To Blue's Clues, Taboo Has All The Moves
The rapper, actor, and consummate dancer is a force of fatherhood.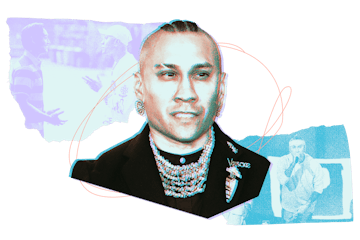 Ariela Basson/Fatherly; Getty Images
We may receive a portion of sales if you purchase a product through a link in this article.
Jaime Luis Gomez requires no introduction. Known by his stage name Taboo, he's been a member of the Black Eyed Peas since 1995. For parents who came of age in the '90s, dancing to the music Taboo helped create is so ingrained in our souls, that, at this point, it's second nature. So, it makes sense that talking to Taboo in real life feels like talking to an old friend. And like the best kind of dad friend, what Taboo does is get very real about fatherhood, very quickly.
"I had a kid when I was a kid myself," he says. "I was a very young father. I don't condone teen pregnancy, but what I learned from that experience was simple: Don't let anyone extinguish your light. And that goes for me and my kids."
Taboo is 47 years old, and has three sons: Josh (29), Jalen (14), and Journey (12). He also has a young daughter, Jett (7). And interestingly, all four of his children have experienced one kids' TV series, across various generations: Blue's Clues. "Josh grew up on Steve from Blue's Clues. Jalen and Journey grew up with Donovan and Josh, and now my daughter Jet is growing up with Josh." For the uninitiated, Taboo is referring to all three hosts of Blue's Clues — Steve Burns, Donovan Patton, and Joshua Dela Cruz — who each hosted the venerable kid's show in a different era. Now, in the movie Blue's Big City Adventure, all three hosts team-up for a huge adventure that spans the generations — and includes Taboo.
Because Taboo is close with Joshua Dela Cruz, he jumped at the chance to appear in the movie, playing himself in a special cameo.
"Yo, it's part of my household from generations," Taboo says. "It was a natural organic transition for me to do this movie, and I was proud, man. Proud to do it."
Blue's Big City Adventure has just dropped on DVD, on March 28, is available for rental on Amazon, and is streaming on Paramount+. Taboo tells Fatherly that his appearance in the movie also highlights actual street performers in New York City, an artform that is near and dear to his heart. "You've got to understand, that sure, the Black Eyed Peas, we have done some amazing, incredible things in the music space, but there's a lot of music performers or street performers that that's their life, man. That's the way that they are able to get back to the arts and express their art form. I wanted to salute all the street performers because there's a lot of them in New York. To be part of that conversation, even as metaphoric as it was in the movie, that's something that I wanted to highlight as well."
Taboo's positivity is as infectious as his music. He chalks it all up to the good people in his life, including his grandmother, his partner, and his children. But, he also cites another interesting source of inspiration: The late Stan Lee. In 2018, the Black Eyed Peas teamed with Marvel on the album Masters of the Sun, as well as the graphic novel of the same name. And while doing panels with Stan Lee, Taboo has an illuminating conversation.
"I asked him what his secret was and Stan said, 'You know what I'm 90 years old, but I still have a kid's imagination. Don't ever grow up! Excelsior!' And when I heard that I thought, yo, I want to be like Stan. When it comes to creating content for kids and being a conduit of hope, bringing light to different communities, bringing light and inspiration to the kids."
We could talk to Taboo for hours, but also wanted to ask him our six essential questions.
What's your favorite thing to do together as a family?
We love to go out to dinner every Friday night to our favorite restaurant for shabu shabu.
If you have an hour to yourself, what are you doing?
Watching basketball games or sports.
What's your favorite piece of clothing or accessories that you own?
Every one of my turquoise pieces of jewelry!! My favorite toy is anything I get from Sideshow Collectibles!!
Name the most important skill you're passing down to your kids.
Unconditional love for our family. Strong family values.
Give us a book, record, movie, or TV recommendation.
I would recommend picking up A Kids Book About Identity written by me (I'm being biased!). But it is a good book to read with your kids.
For, TV, we are watching The Last of Us as a family.
If you could give one piece of advice to your former kid-free self, what would it be?
Don't allow anyone to extinguish your dreams or aspirations, even that person u see when u look in the mirror!! Dreams are attainable!!