'Blues Clues' Just Got Super Real and Nobody Was Ready
The original host just returned and went mega-viral.
by Rebecca Jane Stokes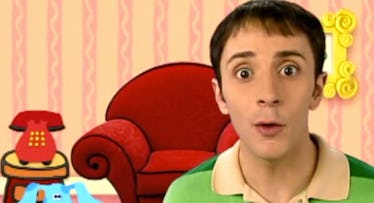 Credit: Nick Jr.
Believe it or not, this year Blue's Clues is celebrating its 25th anniversary. That's right, though she might still be a puppy, Blue has spent the last couple of decades (and change) helping kids solve miniature mysteries and learn about logic and problem-solving in the process. To celebrate the show, Nick Jr. has been hitting up social media, but a tweet they shared yesterday hit a chord that few expected.
In the two-minute video shared on their account, fans are met with a familiar face: Steve, the show's original host! Played by Steve Burns, Steve, wearing a baseball cap emblazoned with the show's familiar crayon, is a little older now. Like many of the kids who grew up watching him, he's now bespectacled, and he's come with a message.
"Hi, you got a second? You remember how when we were younger we used to run around and hang out with Blue, and find clues, and talk to Mr. Salt, and freak out about the mail, and do all the fun stuff? And then one day, I was like, 'Oh hey, guess what? Big news… I'm leaving,' for like, a really long time."
Burns goes on to address how hard it was for him and fans when he left the show, but he doesn't stop with regrets. Instead, he opens up: "I guess I just wanted to say that after all these years I never forgot you. Ever. And I'm super glad we're still friends."
It's a sweet, tear-jerking tribute to a show that's earned its place in the firmament of children's entertainment. It's also super unexpected for a kids' show to get this real. Nobody knew they needed this, but here it is.