StockX Founder Josh Luber Has Cool Dad Vibes for Days
Luber is turning sneaker collectors into next-gen stock traders. And he's just getting started.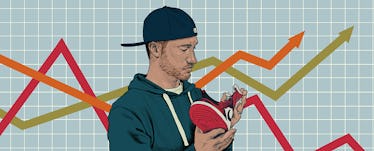 Kreg Franco for Fatherly
Josh Luber had just woken up from a nap and, dammit, he needed some candy. Luber, the youthful 40-year-old CEO and founder of the sneaker exchange marketplace StockX, had just arrived in New York from Detroit, where his company is headquartered. Luber is not a household name, but he's well known within the billion-dollar world of the secondary market footwear as the founder of "the stock market of sneakers." Luber, who founded StockX in February 2016 with Dan Gilbert, the billionaire behind Quicken Loans and the Cleveland Cavaliers, is poised to ride sneakers very far up and to the right. But first, he wants some gummies.
Despite sleeping only four-hours a night on average, Luber, the father of six-year-old Fiona and three-year-old Javier, bounces with the energy of a father who has finally gotten a good night's sleep. He's pumped about the promise of candy and being in New York and the wild success of his company. Luber combines the boardroom jargon with toddler enthusiasm. It's nice to be around. Naturally, I assume the gummies would be for his children, but, as we walked from Union Square's W Hotel to Dylan's Candy Bar, Luber admits the candy is for him. "My wife says I can't give my kids candy anymore," he shrugs. "Still, I love it."
READ MORE: The 100 Coolest Dads in America Ranked, 2018 Edition
Luber's wife is an immigration attorney originally from Chile. But his mother was a dental hygienist. He laughs uncomfortably when I suggest maybe his love for candy is a form of belated rebellion. "Can't you just smell the sugar?" he asks as we enter the store. He grabs a glassine bag and makes a beeline for the rock candy and the rainbow sour belts. He does not deny himself.
Luber has that quality so often observed in serial entrepreneurs of having been let in on a secret. In Luber's case, he's at least open about the secret, which is this: Everything can be a commodity. StockX started as a stock exchange for sneakers but has recently expanded to include handbags, watches, and streetwear. It tracks current and historical price indices along with 52-week highs-and-lows. Collections of sneakers can be turned into portfolios of sneakers which can then be bought and sold for profit. Today it's sneakers, watches, and bags; tomorrow it might be everything else. Hence, the variable X. Abstracting real things into disembodied profit centers is, literally, a multi-billion dollar idea but not a new one. "I just took the idea of commodity trading," says Luber, "and aimed it at a different object."
But back to the sneakers. Like many men his age, Luber grew up cherishing his Air Jordans. As he grew up, his passion for sneakers merged with his growing means — jump-started after working as a consultant for IBM — and a sneaker collection was born. Today, Luber boasts a three-hundred-and-fifty strong collection of sneakers he keeps displayed in a specially built walk-in sneaker closet. "That's actually a pretty reasonable size," he says incorrectly. "Some people have thousands," correctly.
Those people, the sneaker elite, are customers of StockX, which hits upwards of $2 million a day in sales.
ALSO: What Does It Mean To Be a Cool Dad in 2018?
In many ways, StockX is the result of a few intersecting realities. It's the latest triumph of the original Air Jordans, which made collectors out of kids everywhere when they were introduced in 1984 . It's the swaggering financial power of middle-aged men. It's the rise of so-called street culture to mainstream culture. It's the power of the internet, the rise of the limited edition and it's supply and demand.
As we hunt for peach gummies, I stand in awe of Luber. Not because here is a man who has embraced his love inner sugar-hungry child. Not because here is a man who somehow figured out that the market had left its keys in the ignition and had the wherewithal to drive away with it. It's not even for the $500 "Friends and Family" he's wearing. No, it's because Luber has pulled off that most difficult of middle-aged man tricks: he's managed to convert his adolescence into adulthood. He's alchemized sneaker collecting, a pursuit derided as the province of man-children, into a wildly successful company. And by so doing, Luber has kept that spark of youthful enthusiasm burning brightly at an age when for most of us, it is is pretty well petered out.
There is, of course, the unsettling fact that really what Luber has done is take sneakers, once literally the most grounded of all things a man could use, and turned it into just another commodity. That is to say, he's preserved his childhood passion at the expense of its innocence. Still, on the plus side for the hundreds of thousands of sneakerheads, StockX has offered is a chance for them too to keep the passion of their youth enflamed and profitable.
All of this has made Luber a very busy man. He's riding the universal commodification wave while juggling personal commitments. It's tricky. "I try not to travel on the weekends," he says, "and when I'm at home, I make sure I'm there for bedtime." [Fiona is currently in the Hi Fly Guy phase.] But he's on the road a lot, in Seattle, where Nike is based, and New York, where Foot Locker is. Currently Luber is expanding from the secondary market to the primary market, working with brands to release limited edition sneakers. Recently StockX worked with Nike to re-release a limited edition Lebron James sneaker that came with a block of court's parquet floor and an actual Cavs ring. (There were 46 pairs; bidding reached $6,000 per pair.) "What was so cool," says Luber, "is we let the buyers resell it without actually ever taking possession. We literally created true commodity."
But as the father of two small children, Luber's mind also turns to their tiny feet. The first pair of sneakers his daughter got were received in utero. "My brother bought her a pair of black Air Jordan's 3, before we knew the sex of the kid," he said. Once he knew she was a she, Luber began buying Fiona mini-Jordans before his wife was like, "That's crazy. Why spend $70 on shoes for a one-year-old?" But Luber insisted his love of sneakers be passed on. These days Fiona and Javier rock a never-ending supply of Yeezys. They go for $194 on StockX and only grow in value.
This article was originally published on