Did I Do That? Family Matters Legend To Play Major Star Wars Role
Search your feelings. You want this to be true.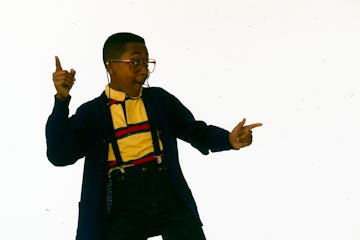 ABC Photo Archives/Disney General Entertainment Content/Getty Images
The most unstoppable force the Winslow family has ever known could be coming to a galaxy far, far away. Actor Jaleel White will be a part of the upcoming Star Wars series Skeleton Crew and has confirmed that his role required "two hours" of makeup every single day. And now, Star Wars fans seem to think they've figured out who he's playing. It is possible, even likely that White — famous for his role as Urkel in the classic sitcom Family Matters — will play a live-action version of an infamous Star Wars anti-hero.
Back in May 2023, White confirmed he had joined the cast of Star Wars: Skeleton Crew, a new live-action series starring Jude Law. According to Comic Book Resources, White said "It's a big change for me, I have to do two hours of makeup every day. I get to play a pirate."
Now, several prominent Star Wars fans, including Diamond Figs on Instagram are theorizing that White will play none other than the pirate Hondo, who first appeared in the animated series The Clone Wars. This makes perfect sense. Skeleton Crew is set to be a show about young kids lost in space, around the same era as The Mandalorian. This means that characters from The Clone Wars and Rebels can appear on this show, just as they did in The Mandalorian. And one of those characters could be Hondo Ohnaka. A pirate king during The Clone Wars, Hondo became an ally of the Rebellion during the events of Rebels. This means he'd been a bit older than Bo-Katan and Ahsoka during the time of the forthcoming show Skeleton Crew.
Could Jaleel White really be playing this part? It makes a certain amount of sense. Hondo both a formidable character, but also a funny one, meaning White could be perfect for the role. We know he's in the show, but we just don't know who he's playing, so if it's Hondo, it may mean that the world might finally give White the respect he deserves, and not only associate him with Urkel. Then again, because Urkel's duplicate — Stefan Urquelle — may or may not have been a clone, there's no reason why we can't have multiple versions of Jaleel White in Star Wars.
Skeleton Crew does not have a release date on Disney+. It is thought to drop sometime in 2024.