RIP Tom Verlaine: His 5 Essential Albums, From Television And Beyond
The punk brilliance of Tom Verlaine goes deep. Here's the essential records you need right now.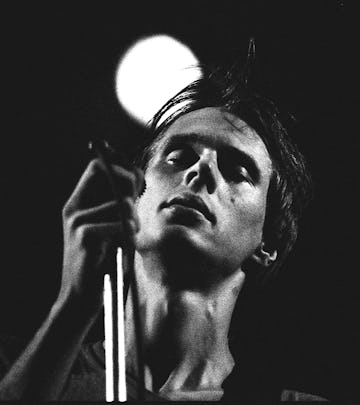 Howard Barlow/Redferns/Getty Images
We may receive a portion of sales if you purchase a product through a link in this article.
Punk pioneer Tom Verlaine has died at 73. For serious rock and punk fans, the loss of this guitarist and singer cuts deep. But, if you're unfamiliar with Verlaine's brilliant music, or it's been a while since you've revisited his excellent music, there's never been a better time. Certainly best known as the founder of the '70s punk band Television, Verlaine's music spans five decades and is way more varied than his early reputation suggests.
In honor of the passing of Tom Verlaine, here are five essential albums every rock fan and cool human needs to listen to right now.
5. Tom Verlaine (1979)
Verlaine released his first solo album just two years after his band Television dropped their iconic album, Marquee Moon. The stand-out track here is probably the last one, "Breakin' My Heart," though "Last Night" and "The Grip of Love," are both solid, too. There's more of a '70s glam rock feeling to this album than his work with Television, but as '70s rock albums go, this one is tragically underrated. The hugeness of "Kingdom Come" alone is worth the whole album.
4. Adventure (1978)
The second album from Verlaine's band Television is often overshadowed by the first, which is a bit of a shame. From the opening stomper "Glory," to the brilliant "Ain't That Nothing," it's easy to see the entire crossroads of various genres of rock right here. On this record, Verlaine's voice sounds like its time traveling: This is a '70s album, but it sounds like it could have been released either in the mid-'60s and given The Rolling Stones a run for their money or existed in the early aughts, right alongside The Strokes. Somehow, Adventure is either the greatest faux-60s rock album ever or the best aughts alternative record you've never heard.
3. Warm and Cool (1992)
Like Brian Eno, Verlaine's brilliance wasn't just signing, he was also a fantastic composer. And the proof of his range of artistic talent can be found on his first entirely instrumental album, Warm and Cool. This one is hard to track down, but it's worth it. At times, it's tempting to say this album is closer to sound art than rock, but that genre-busting is also the point.
2. Dreamtime (1981)
Easily Verlaine's most accessible and wonderful solo effort, the power of Dreamtime is the fact that you feel like you've heard it before, even if you haven't. It's the kind of album you imagine Bowie wish he'd made, and the sort of energy you long for today. One of the coolest tracks here is "The Future is Noise," the soundtrack of being a little hungover and trying to figure it all out.
1. Marquee Moon (1977)
This is the completely perfect debut from Television, Verlaine's voice is timeless here. The title track is just shy of 10 minutes long and is truly one of the most epic rock songs of all time. Also, if you have little kids who are even a little bit into old-school rock, you may find that they will love this record. (Mine does!) Television toured with Blondie when this album dropped. So, if you want to listen to this, follow it up with Blondie's Parallel Lines and you'll have a perfect combo.
Hot tip: There's a 2003 reissue of Marquee Moon with a bunch of bonus tracks. If you don't have the album at all, get that one!