You Need To Watch The Most Misunderstood 2000s Spy Flick On Prime ASAP
Quantum of Solace is more than a tricky title. It's a compact espionage story that just happens to be a James Bond film.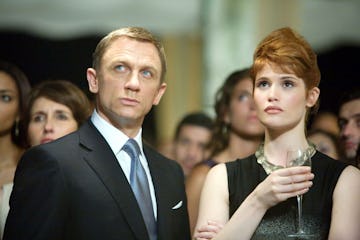 MGM/Sony/EON
In May 1959, Cosmopolitan published a piece of short fiction by Ian Fleming called "Quantum of Solace," in which James Bond listens to a story at a dinner party. The story itself is not a spy thriller at all. Instead, this tale daringly contrasts Bond's over-the-top lifestyle with the real pain of what real people go through in relationships. The "Quantum of Solace," as described in the story, means "a precise figure defining the comfort, humanity, and fellow feeling required between two people for love to survive." And, although the 2008 James Bond film of the same name has almost nothing to do with the 1959 short story's plot, it could provide a bit of comfort and does explore how love can survive.
Of all the James Bond films, Quantum of Solace is perhaps the most misunderstood, overlooked, and unfairly maligned. Because 007 flicks jump around on streaming all the time, this one leaves Amazon Prime Video on January 31, and Paramount+, too. Here's why you should give it another look before it does.
In 2008, just two short years after Daniel Craig's debut as James Bond in the game-changing Casino Royale, expectations for the sequel were high. Quantum of Solace was billed as a direct sequel to Casino Royale, picking up just minutes after that film ended, something that was a risk for the long-running Bond franchise. Although audiences and critics had embraced Craig's more realistic and grounded take on Bond, the idea of telling a character-centric story in a series of action movies wasn't something the 007 series hadn't attempted in a while. In 1969, in On Her Majesty's Secret Service, James Bond (George Lazenby) got married and then had his wife Tracy (Diana Rigg) killed in front of him. In the next movie, Diamonds Are Forever (1971), Bond was back to being played by Sean Connery, out for revenge for the death of his wife.
The parallels are clear. Just as On Her Majesty's Secret Service was a more tender, less formulaic Bond with a new actor, so was Casino Royale. Each was then followed by sequels that were less than beloved by general audiences, and left hardcore fans just as divided. But, Quantum of Solace isn't the Diamonds Are Forever of the Daniel Craig era for one simple reason: It's actually good, and Diamonds Are Forever isn't. Quantum of Solace is a real movie with real emotional stakes. Marc Forster was selected by the Bond producers as the director of the film, precisely because he'd done The Kite Runner and Finding Neverland. Whenever you think Bond movies aren't artistic and full of amazing cinematic talent, remind yourself that Marc Forster directed this one.
Although Quantum of Solace begins as Bond is taking revenge against Mr. White (Jesper Christensen) for the death of Vesper (Eva Green) in the previous film, the movie quickly morphs into something else — a layered, and taut spy movie in which Bond is one step behind the bad guys the entire time. After learning a clandestine group called "Quantum," has spies everywhere, Bond teams up with a Bolivian agent named Camille Montes (Olga Kurylenko). They're trying to take down Dominic Greene (Mathieu Amalric) a faux-environmentalist who is somehow the most realistic Bond villain of all time. Bond is joined in his adventure by his CIA pal Felix Leiter — played by Jeffrey Wright in his second Bond film — as well as an MI6 agent named Strawberry Fields, played by Gemma Arterton. Judi Dench, of course, is back as Bond's boss "M," while David Harbour sneaks in there as the crooked CIA boss Gregg Beam.
If you don't remember the plot of Quantum of Solace, nor its eventual bit twist, I'll not spoil the details here. Of all the Craig Bonds, this film has the shortest runtime, at a breezy 106 minutes. In a sense, it's like you're watching a really great episode of an imaginary James Bond prestige TV show. This is probably the best way to think about the film. It's less ambitious than Casino Royale, and yet, somehow gutsier because it's less ambitious. Bond doesn't sleep with Camille, and barely has time for puns or one-liners. There aren't a lot of quirky gadgets, giving the film a smaller quality than nearly all the other 007 films.
It's also a film that's actually about what it claims to be about. Both James Bond and Camille Montes are hoping for some kind of solace in their missions of revenge. Both are unsure if they can correctly calculate that "precise figure" to make them happy. It's an action movie about loneliness and a spy movie in which the spies feel truly out in the cold. This a no-frills Bond film that (mostly) rejects nostalgia and callbacks. In 2012, Skyfall would pivot the other way, which was probably for the best. But the Daniel Craig era might have been even richer if we got one more movie like this.
Quantum of Solace is streaming on both Amazon Prime Video and Paramount+ until January 31, 2023.